Our U.N.-style hall is unique in Japan and rare around the world. This distinguished hall is our centerpiece, with a formal atmosphere and invigorating undercurrent of excitement. The space has a ceiling of 15 m that extends to the 4th floor, an expansive stage structure, a symmetric design, and a sophisticated white tone. Suitable for international conferences held by government or international organizations, academic conferences and symposia, award ceremonies and functions, and all your most important occasions for interaction and information dissemination.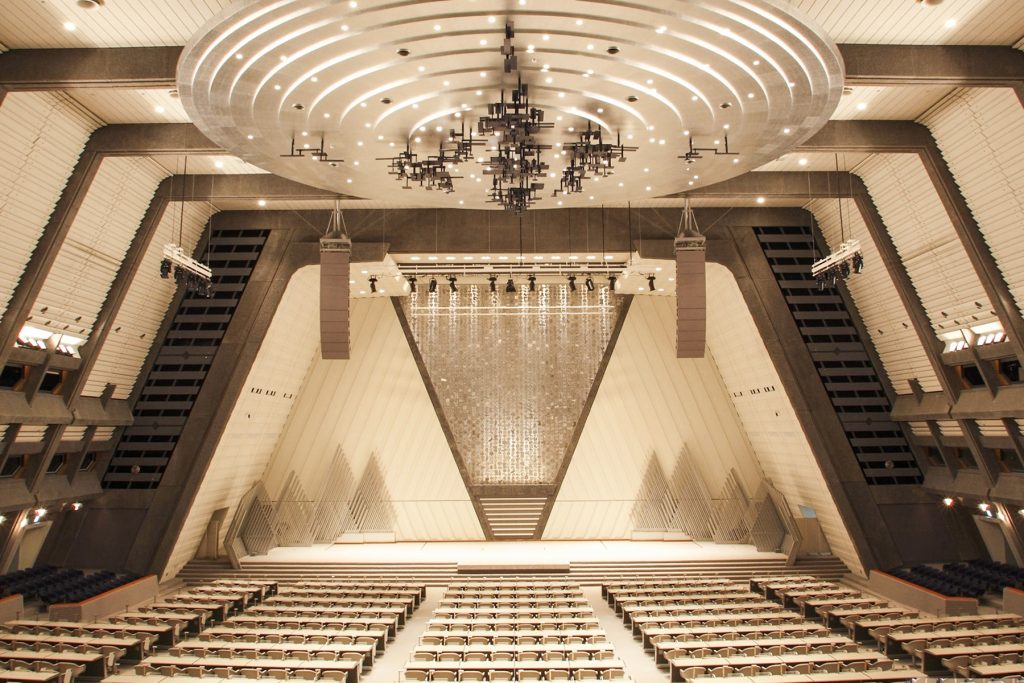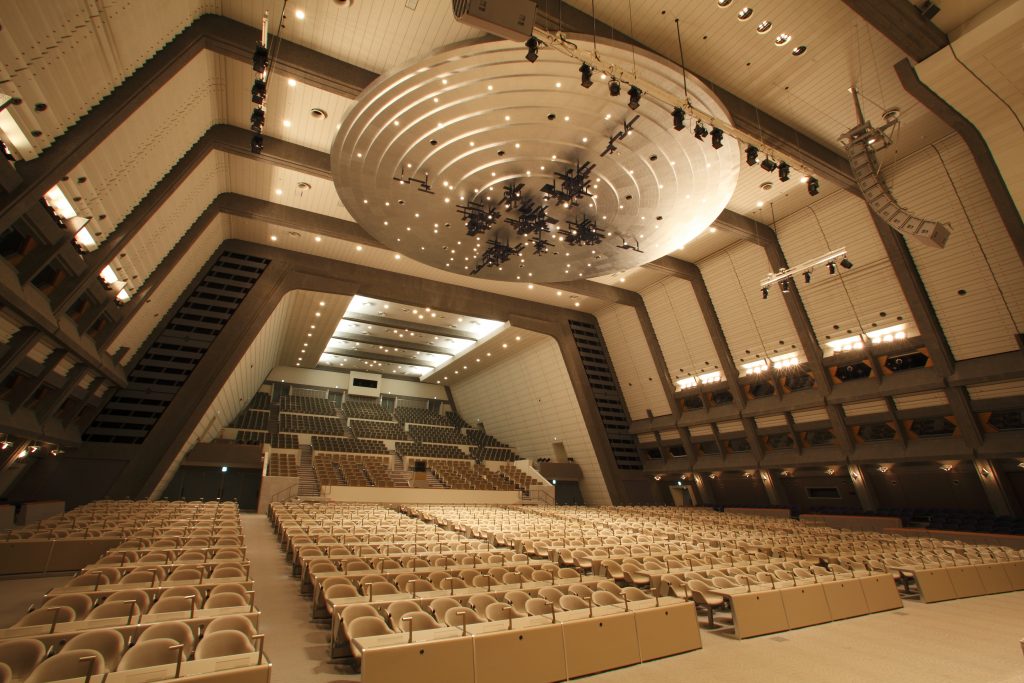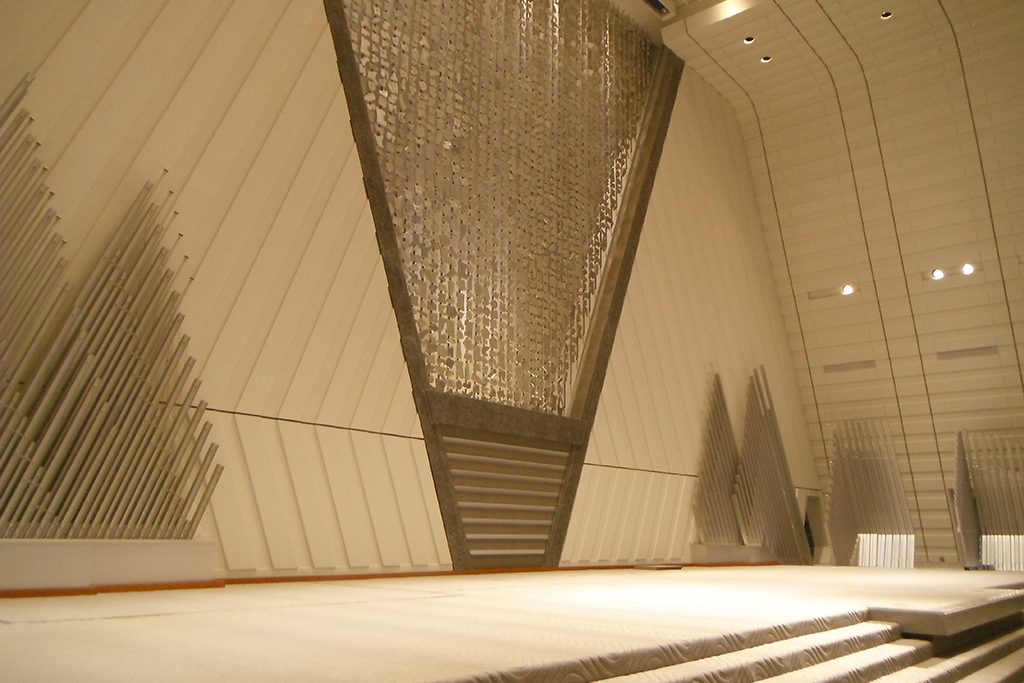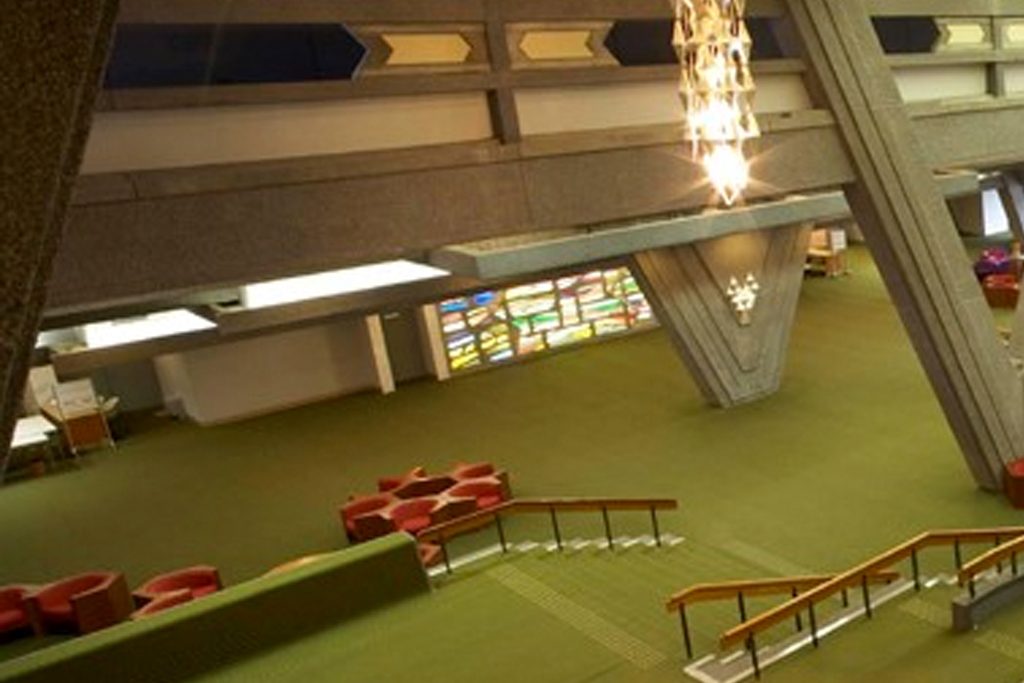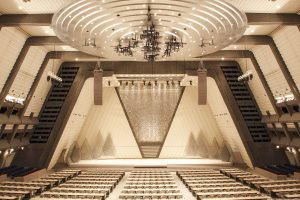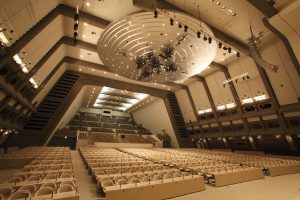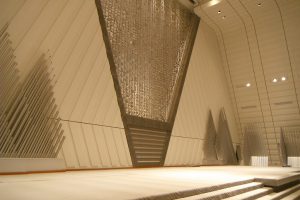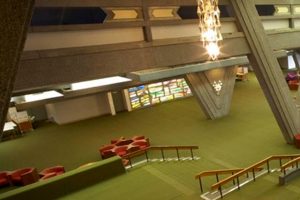 Panorama Photo
Overview
Floor
Floors 1-4〔ceiling extends to 4th floor〕
Area
2,040m²
Ceiling height
15.0 m *Stage area ceiling height is 14.0 m
Stage
W 26.0 m x D 8.0 m x H 1.0 m
Outline dimensions
W 43.0 m x D 37.0 m
*1st Floor
Layout
Layout
Number of seats
Layout PDF
Fixed seating 1,840
Schoolroom 400

1st floor: 800 (4 person/unit tables)
1st floor side seating: 89 on each side
2nd floor seating: 336
3rd floor seating: 247
4th floor seating: 279

(PDF)
Notes : May add seats to 1st-floor aisles to hold up to 2000
Facilities
8 Simultaneous interpretation booths
2 Digital HD video camera permanently installed
Screens : 1 screen permanently installed - H 7.8 m x W 10.5 m / 1 screen assembled – H 7.0 m x W 14.0 m
2HD projectors (12,000 ANSI lumen) permanently installed
2 Art battons (movable)
3 Lighting battens (movable)
2 Xenon Spot Lights (3kw)
Elevating platform on part of stage
Rental Fees
Case Study
Case2
Kyoto Prize Presenting Ceremony
Case3
The 13th International Congress of Human Genetics
Case4
80th Annual Meeting and 24th Congress,International Commission on Large Dams
Case5
40th World Congress of the International College of Surgeons
Case6
The 29th General Assembly of the Japan Medical Congress 2015 Kansai
Comparable Halls
FAQ
Which is more appropriate for a 1000-person function, the Main Hall or the Annex Hall?
The Annex Hall holds 1000 people, and has an exclusive entrance and lobby, ensuring a higher degree of autonomy than the Main Hall. However, the Main Hall is more suitable for performances using video, lighting, or stage equipment. We can provide proposals for attractions, video and lighting plan, stage decoration design, and more.
*Our designated contractor will operate the equipment.
Which is more appropriate for a musical event or concert, the Main Hall or the Event Hall?
The Main Hall allows simple musical or dance performances for opening ceremonies, etc., but it utilizes a sound system that is generally more suitable for speeches and conferences than music. Furthermore, the stage depth is 8 m, and the stage floor is carpeted.
The Event Hall is a pillar-less space of 3,000 ㎡, and you may install a temporary stage or speaker system if desired. It also has a stage with elevating platform in the back of the hall.
How many front-row seats with tables and back-row seats with side tables are there on the 1st floor of the Main Hall?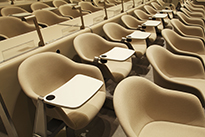 400 seats each. The Main Hall may be used for 400-person events as well.
Are the Main Hall seats numbered?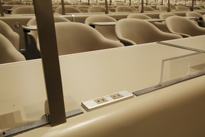 The seats are not numbered. If you wish to have assigned seats, you may use stickers, as long as they do not leave marks and you make sure to remove them after your event.
Can a reception area or display booths be installed in the Main Lounge in front of the Main Hall?
Yes, but we recommend that you hold your reception in the main entrance corridor for security and traffic flow reasons.
You may install displays in front of the stained glass between the entrances on either side of the Main Hall, or in the space with hexagonal seats, but you are required to inform our sales staff in advance. Please limit this to the minimum necessary space in order not to obstruct traffic to the Sakura and Swan banquet halls. The lobby requires a usage fee of 400 yen per m2.
When using the Main Hall, where is the most convenient location for VIP waiting rooms, secretariats, or headquarters?
Located close to the stage wings, Rooms 158, 159, and 160 are convenient for VIP waiting rooms, and Room 157 is convenient for your secretariat.