Introducing our story and track record in the 50 years since our establishment.
Path to creation
November 8th, 1957
Construction of Japan's first international conference center was approved by the Cabinet, and the resolution included the following requirements.
Proactively attract major international conferences to Japan.
Major international conferences in Japan should be held mainly in Kyoto, as well as Tokyo.
The scale of the international conference center should rival the UN Headquarters in New York City or the Palais des Nations in Geneva.
September 15th, 1959
The Cabinet decided to build the international conference center at Lake Takaragaike, Kyoto, for the following reasons.
1. Kyoto is the capital of Japan's proud history and culture.
2. The city has an abundance of tourist resources, including famous temples and shrines, as well as traditional arts and crafts.
3. The Lake Takaragaike building candidate site has the classic beauty of a Japanese garden.
November 19th, 1962
A groundbreaking ceremony was held, and land leveling work began.
May 21st, 1966
The Kyoto International Conference Center opened.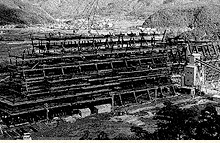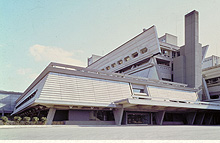 A Convention Pioneer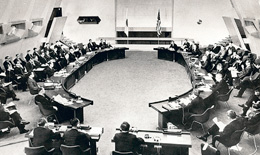 The Kyoto International Conference Center has held nearly 17,000 conferences and events since its opening, forming Japan's international conference history and convention infrastructure.
Conference History