The Kyoto area has about 58,000 hotel rooms, ranging from worldwide luxury brand hotels to accommodation-only business hotels. Kyoto is a compact city, making it easy and convenient to get around using the subway and other public transportation methods. ICC Kyoto is located 15-20 minutes from central Kyoto (Oike-dori to Shijo-dori area), and 25-30 minutes from the Kyoto Station area.
For meeting organizers
Kyoto is a popular destination for sightseeing and business travel year-round, so we recommend that organizers begin considering accommodation arrangements at the same time as selecting a venue. Please consult with ICC Kyoto staff for advice on choosing a hotel and introductions to experienced travel agents. For large-scale events with several hundred or more attendees, arrangements should be made for multiple hotels. For hotels that have restaurants, room service, meeting rooms, etc. in addition to guest rooms, we recommend considering the hotels listed in the left column in the Hotels Along Subway Lines chart below.
Shuttle buses
It is possible to make arrangements for shuttle buses that will reach any hotel in the city in about 20 minutes. Consideration should be made regarding parking spaces in front of the hotel, traffic restrictions for large buses, and efficient routes. Please let ICC Kyoto staff know if you are planning to arrange shuttle buses and we will propose an appropriate arrival and departure location within the conference center grounds.
The Lodge
The Lodge is located within the grounds of ICC Kyoto to the east of the Event Hall, making it an extremely convenient place to stay for organizers or staff planning to work early in the morning or late at night.
It can also be used as a waiting room for performers or VIP guests.
Facility overview
2nd and 3rd floors of the 3-story building on the east side of the Event Hall
Room overview
30 rooms fully equipped with bath, toilet, and heat/air-conditioning
Bed size: 2100mm x 1150mm
All rooms are non-smoking. (Smokers may use the bench area outside the entrance.)
Wi-Fi and high speed internet are available free of charge.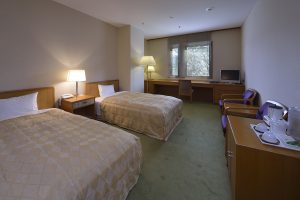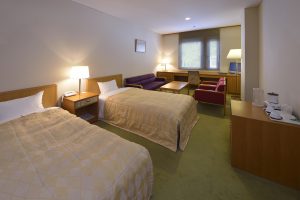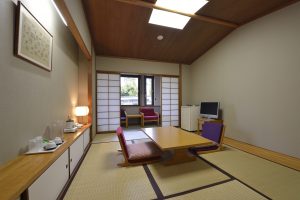 Check-in and check-out
Check-in4:00 PM
Check-out10:00 AM
The Lodge entrance closes at 11:00 PM. Please contact the front desk in advance if you plan to return after this time.
Room rates: *10% consumption tax included
Room types
1 guest
2 guests
Standard Western-style room
2nd floor (23㎡), 3rd floor (20㎡) (24 rooms)
7,000 yen
12,000 yen
Deluxe Western-style room: 27㎡ (4 rooms)
8,700 yen
14,400 yen
Japanese-style room: 23㎡ (2 rooms)
8,700 yen
14,400 yen
Rates above do not include municipal accommodation tax (200 yen per person per night for accommodation fees under 20,000 yen per night).
Cancellation fees
| 2 weeks before: 20% | Day before | Same-day | No-show |
| --- | --- | --- | --- |
| 20% | 50% | 100% | 100% |
Breakfast
Baked goods and beverages (coffee and tea) are available by the 1st floor front desk from 6:30 AM to 8:30 AM.
Breakfast can also be prepared at The Grill*. The Grill
*By reservation only. Starts at 1,815 yen (includes 10% consumption tax and service fee). Only for groups of 15 or more.
Equipment
Refrigerator, television, safe deposit box (located at front desk, available 24 hours), electric kettle, shoe-shine paper, slippers, yukata, towels, hair dryer (borrow at front desk).
*Coin laundry and drink vending machine available.
Amenities
Body soap, shampoo, conditioner, shower cap, hairbrush, toothbrush set, razor & shaving cream
For use as a waiting room
When used as a waiting room, the 2-person rate (10:00 AM to 5:00 PM) applies
Getting to The Lodge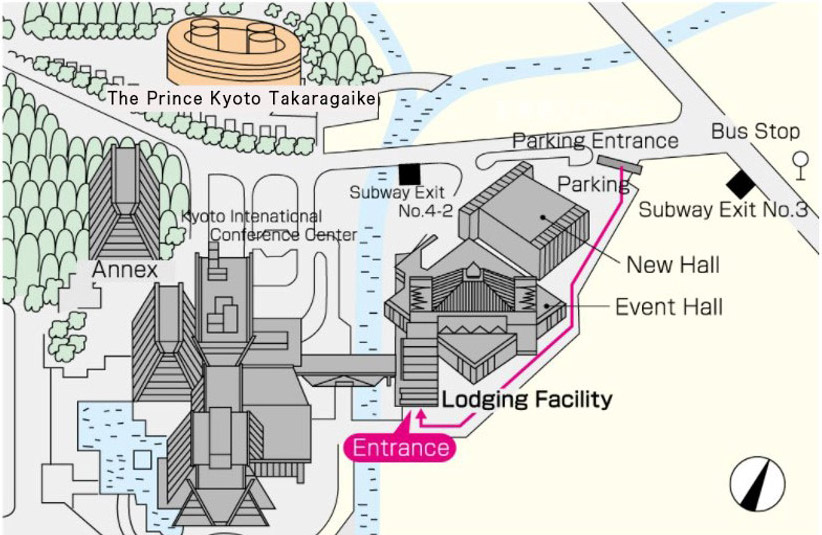 Inquiries
ICC Kyoto Catering Service, The Lodge front desk
Telephone: +81-75-705-1265  Fax: +81-75-791-5710  E-mail: lodge(at)kich-d.co.jp
*Please replace 'at ' with @ when sending email inquiries.
The Prince Kyoto Takaragaike
Adjacent to ICC Kyoto, The Prince Kyoto Takaragaike is surrounded by the nature of the Rakuhoku area and offers guests a relaxing stay that feels like living in Kyoto.
Facility overview
The Prince Kyoto Takaragaike, Autograph Collection
Room overview
All guest rooms are non-smoking.
Free high-speed internet access (wired LAN and WiFi).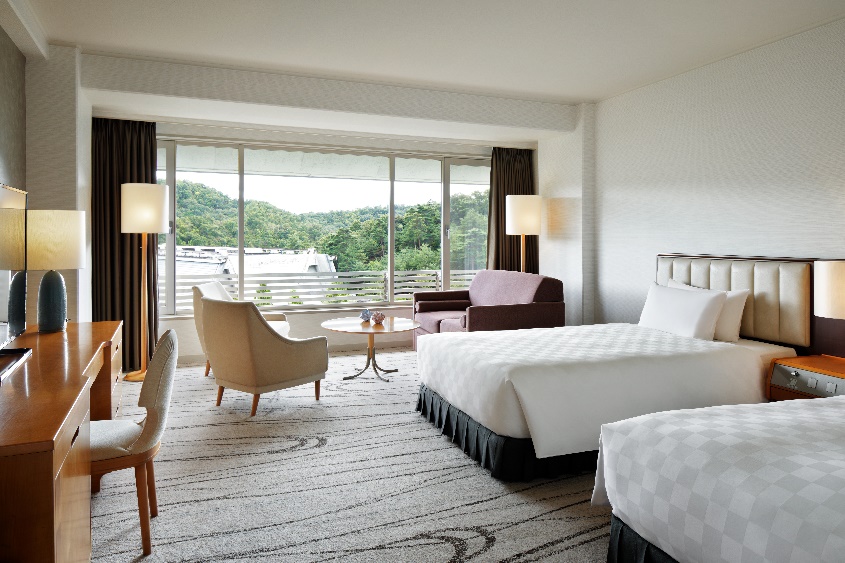 1. Twin(with shower cubicle 39.2 square meters)
2. Twin(36.9 square meters)
Bed size :
1. 1170mm×2090mm
2. 1220mm×2080mm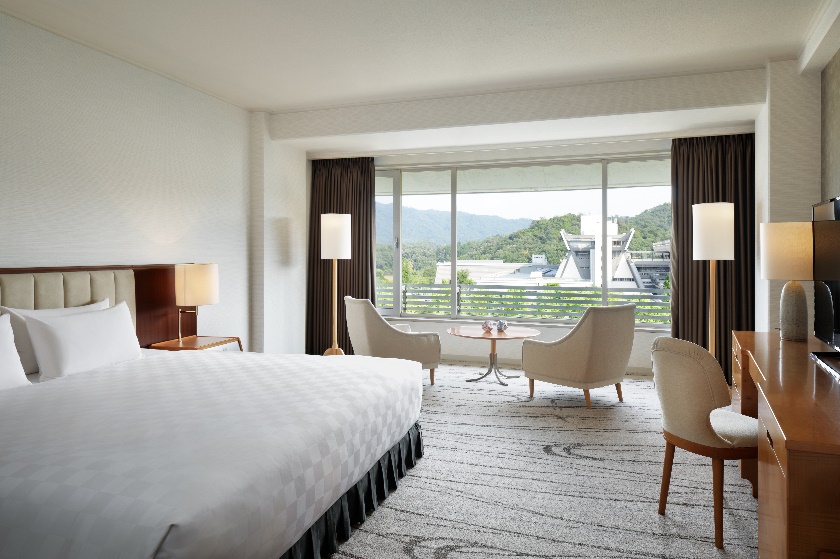 King(36.9 square meters)
Bed size : 2000mm×2080mm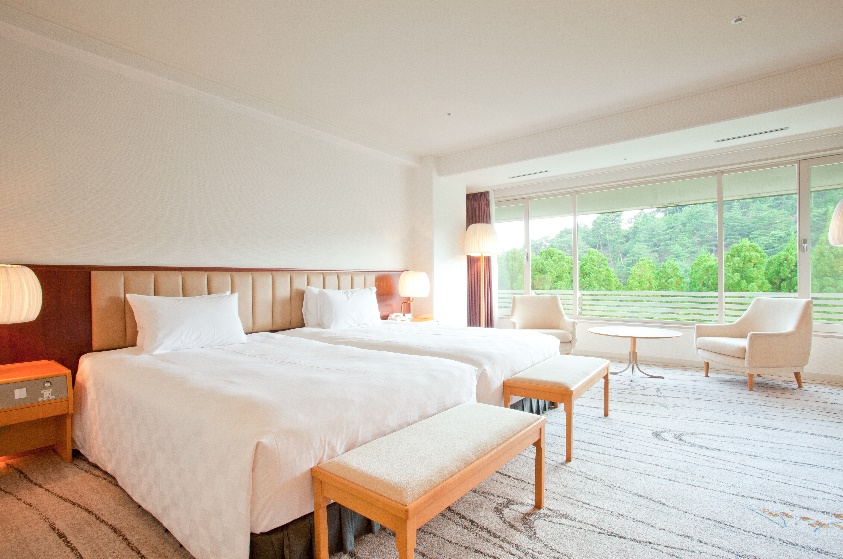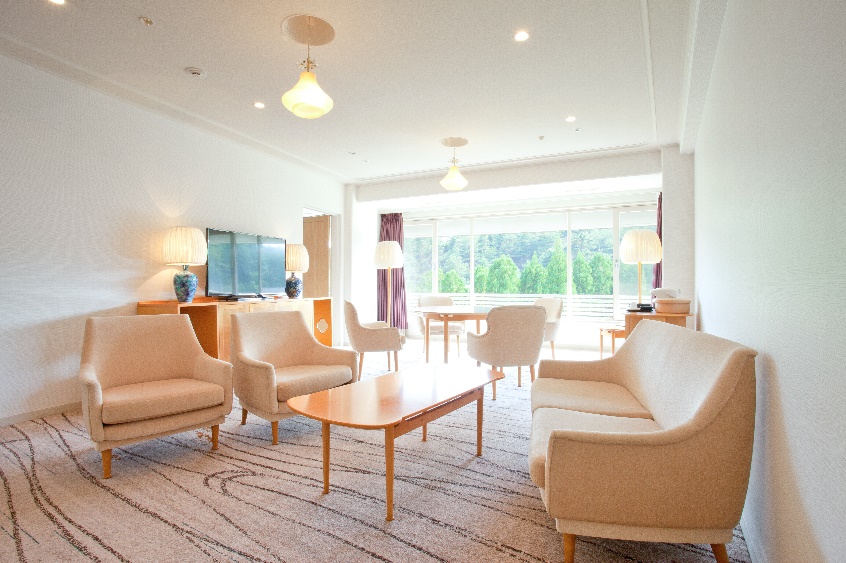 Suite(73.8 square meters)
Bed size : 1280mm×2080mm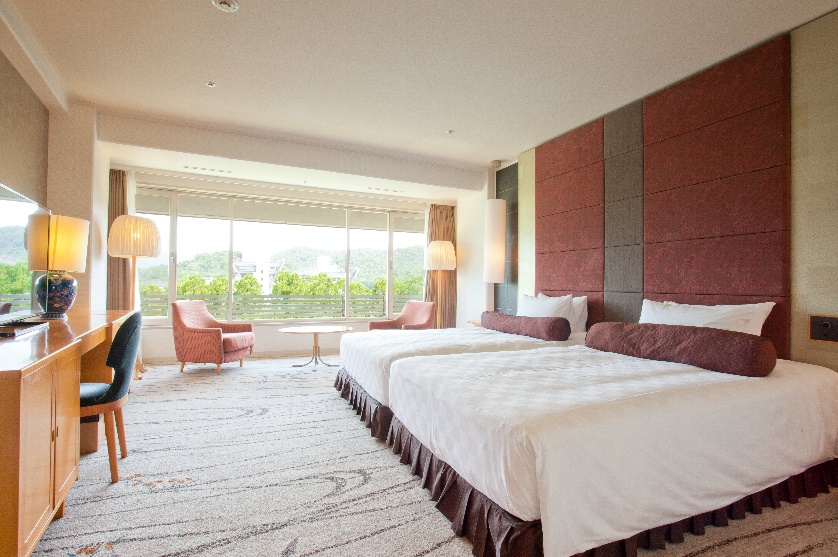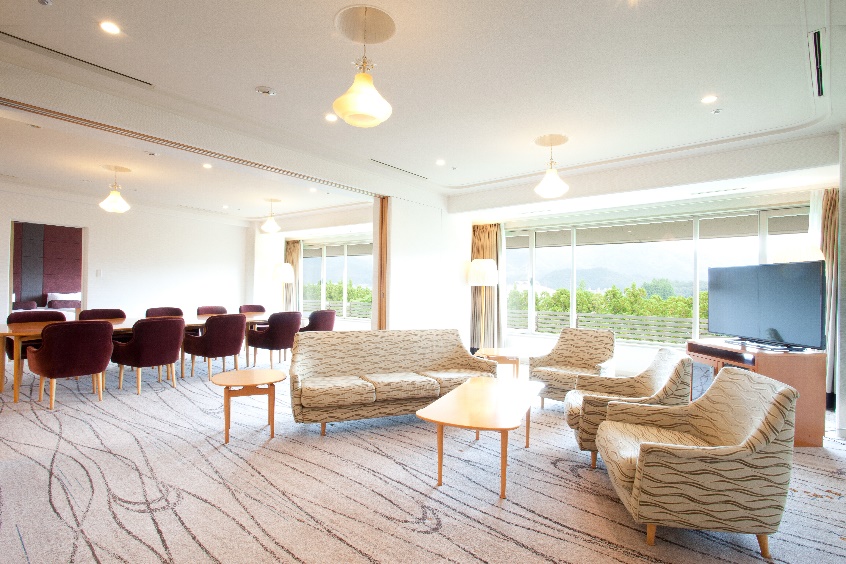 Grand Suite (147.6 square meters)
Bed size: 1280mm×2081mm
Click here for more information The Prince Kyoto Takaragaike
Check-in and check-out
Check-in2:00 PM
Check-out11:00 AM
Room rates: *10% consumption tax included
| Room types | Room rates |
| --- | --- |
| Twin (255 rooms) | ¥55,660~ |
| King (28 rooms) | ¥55,660~ |
| Suite (20 rooms) | ¥135,520~ |
| Grand Suite (6 rooms) | ¥272,250~ |
| Family Room (1 room) | ¥150,041~ |
*Standard rates. Various promotions and deals available depending on the season.

General Information
・Rates are per person, per night and include consumption tax (10%) and service fees. Kyoto City accommodation tax must be paid separately.
・Advance payment or credit card information required upon arrival.
・Extra beds are available when using twin rooms for 3 people.

Hotel Services
・Luggage can be sent to the hotel from the Prince Hotel Welcome Counter at Kyoto Station Hachijo Exit
・Free parking available (from check-in until check-out)
・Free luggage storage before check-in and after check-out
・Free fitness room available (for guests 16 years of age and older. Fitness wear not provided).

Cancellation fees
| Day before | Same-day | No-show |
| --- | --- | --- |
| 20% | 80% | 100% |
Breakfast
Main Dining ITO-ZAKURA or Takaragaike Japanese Restaurant
7:00 AM~10:00 AM
Equipment
TV (49-inch), refrigerator, telephone, Nespresso machine, air purifier humidifier, clothes iron, bathroom scale, safe deposit box, hair dryer, bidet-type toilet with warm water, free high-speed internet access (wired LAN and WiFi), night wear, bathrobe, slippers, towels, sanitizer spray
Amenities
Shampoo, conditioner, body soap, bath salt, toothbrush, comb, shower cap, razor
Access
7-minute walk from Kokusaikaikan Station (3-minute walk from Gate 4-2)
※From 10:30 PM to 7:00 AM, use Exit 3 (7-minute walk)
Inquiries
The Prince Kyoto Takaragaike, Autograph Collection
Takaragaike, Sakyo-ku, Kyoto City Kyoto, 606-8505 Japan
Tel: +81-(0)75-712-1111
Hotels Along Subway Lines
The following are major hotels that are located along subway lines and easily accessible from ICC Kyoto.
Kyoto has two subway lines: the Karasuma Line and the Tozai Line. Kokusaikaikan Station is located on the Karasuma Line, which connects with the Tozai Line at the centrally-located Karasuma Oike Station. Kokusaikaikan Station may be reached from any subway station in the city in about 15-30 minutes.
*

Click the mark for information on major hotels.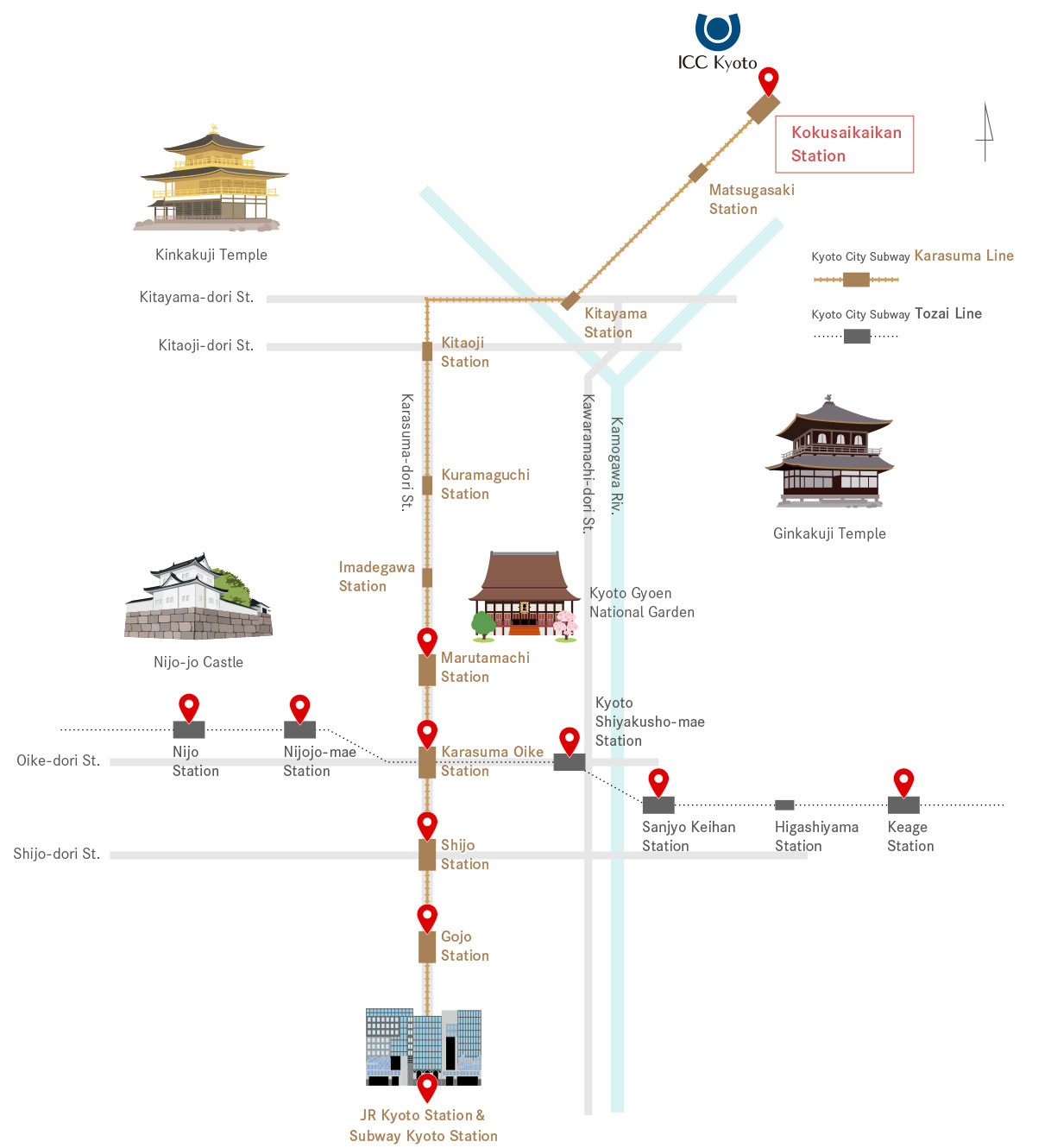 International Hotels
In recent years, many international hotel brands have opened establishments in Kyoto, which provide trusted options for international guests invited for incentives, meetings, and global business.
The following hotels are scheduled to open in the future.