Visitor > Visitor Services > Restaurant & Shop
Restaurant & Shop
Restaurant
In addition to the restaurant "The Grill" which is open all the time, we may open "Lounge" and "The Cafe Terrace" exclusively for event participants.
The Grill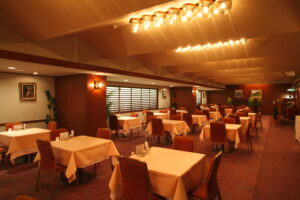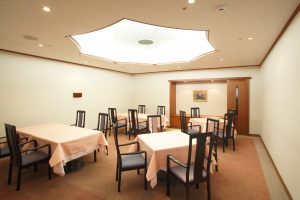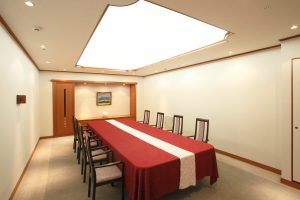 The Grill, a restaurant centrally located on the 1st floor of the Main Hall, offers a low-key atmosphere in its 100-seat dining space and private rooms, and may also be used for group and VIP dining. Enjoy a varied menu, from the casual daily lunch, our traditional beef curry rice, Japanese-grown steak bento lunches to special authentic Western-style cuisine.
| | |
| --- | --- |
| Days | open every day (*except when the conference center is closed) |
| Hours | 10:00-17:00 *meals only available until 15:00 |
| Seats | 106 |
| Private rooms | 2 (Room 1: 16 guests, Room 2: 10 guests) *Reservation required |
| Menu | Menu PDF |
The Lounge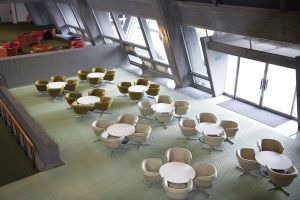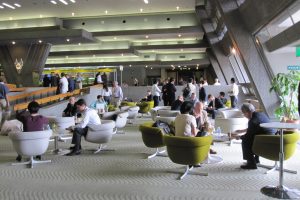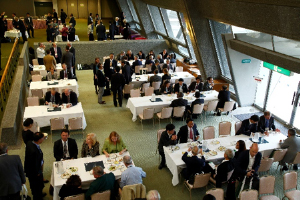 Centrally located on the 1st floor of the Main building, The Lounge is an expansive open space facing the Japanese garden. This café area serves assorted soft drinks and sweets. Spend refreshing time with a freshly brewed cup of coffee.
| | |
| --- | --- |
| Days | based on events |
| Hours | based on event schedule |
| Seats | 40 |
The Café Terrace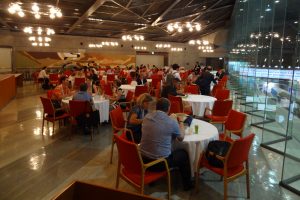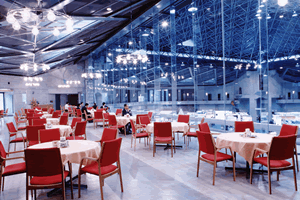 The Café Terrace is located on the 2nd floor of the Event Hall. The Café Terrace has a splendid view of the hall and offers a casual lunch menu and café menu.
| | |
| --- | --- |
| Days | based on events |
| Hours | based on event schedule |
| Seats | 118 |
*It is for the exclusive use of our guests
Inquiries
ICC KYOTO Catering Service, Sales Department: +81-75-705-1260.
Gift Shop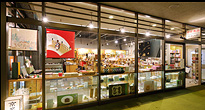 A variety of traditional Kyoto products are available. We can also arrange for commemorative gifts for your event.
Kyoto's appeal is in its meticulous quality and traditional beauty passed down through the generations. We invite you to use our uniquely Kyoto fine goods for presents, souvenirs, and in your daily life.

*Office equipment is not available.
Masterpieces from Kyoto firms