Our Safety Measures for Preventing the Spread of COVID-19
For greater peace of mind and assured comfort.

In April 2021, ICC Kyoto became the first international conference center and exhibition hall in Asia to acquire *GBAC STAR™ accreditation, which certifies that the facility meets international standards for cleaning, disinfection, and infectious disease prevention.
ICC Kyoto was accredited for the second time in April 2022.

*GBAC STAR™ Facility Accreditation is an international accreditation for outbreak prevention that was developed in May 2020 during the COVID-19 pandemic by the Global Biorisk Advisory Council, which is a division of ISSA, a worldwide organization with the most established reputation in the cleaning industry.
Reaccrediation for GBAC STAR™
ICC Kyoto Commitment
The following lists the measures we are taking to prevent infection and ensure safety and peace of mind.
Strengthened Hygiene Control
Hand Sanitizer Stations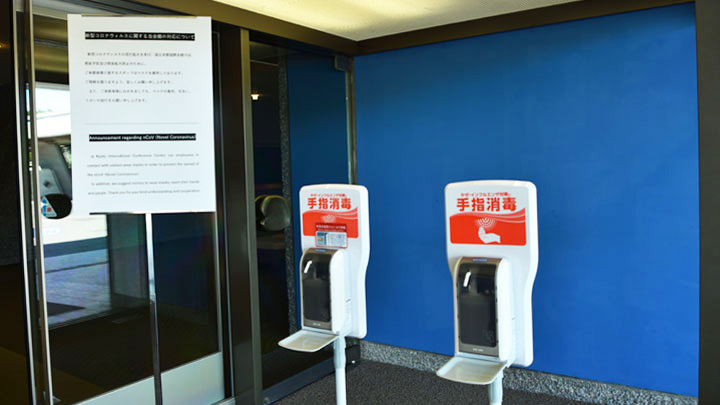 Hand sanitizer is provided at the entrance of each building to ensure that visitors can disinfect their hands whenever necessary.
Air Circulation and Ventilation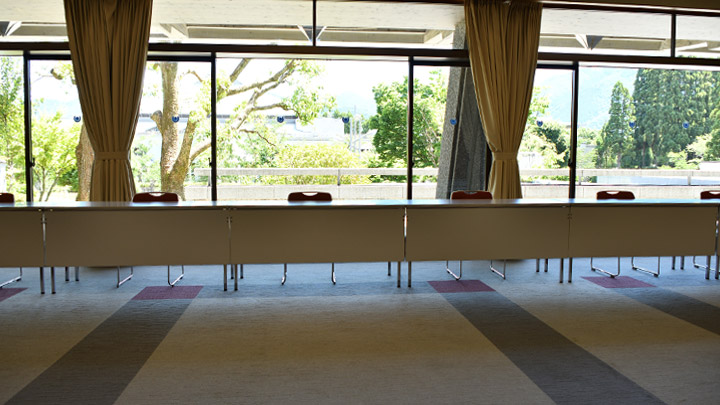 For ventilation inside the building, outside air is regularly taken in to meet the required ventilation volume (30㎥ per person per hour) based on the Act on Maintenance of Sanitation in Buildings.
Cleaning and Sterilization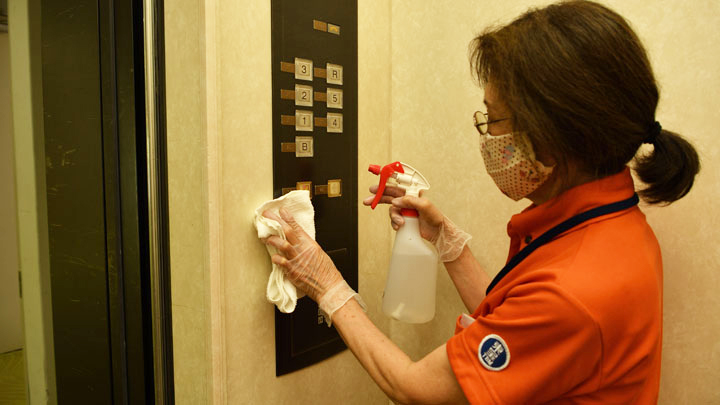 Alcohol is used to disinfect doorknobs, handrails, desks, telephones, and other high touch points. Antiviral and antibacterial protective coating agents have also been applied to further ensure the safety of visitors.
Microphones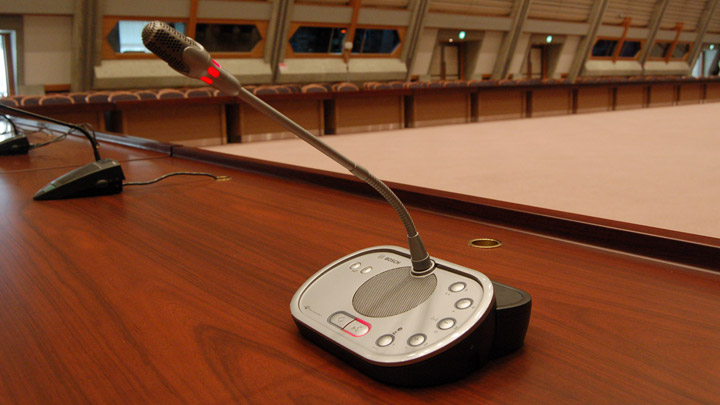 Microphones are disinfected each morning before being distributed to speakers.
Installation of Plastic Curtains, etc.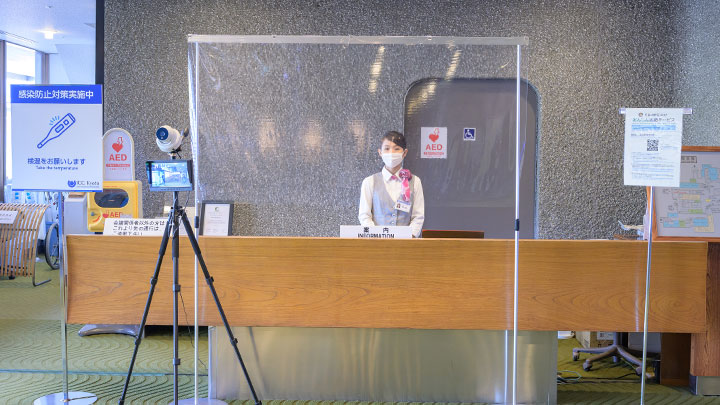 To prevent infection through droplets, plastic curtains are installed at the main entrance reception counter.
Staff Health Management and Masks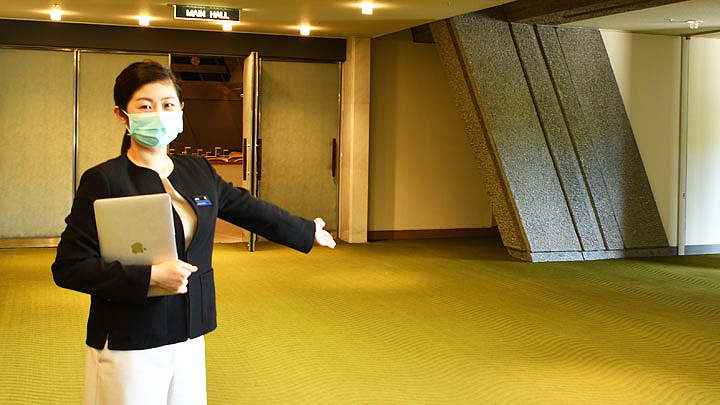 Staff are required to report their physical condition and take their temperature before coming to work.
Masks, gargling, hand-washing, and use of hand sanitizer are also strictly enforced.
Social Distancing Measures
Venue Layout
Updated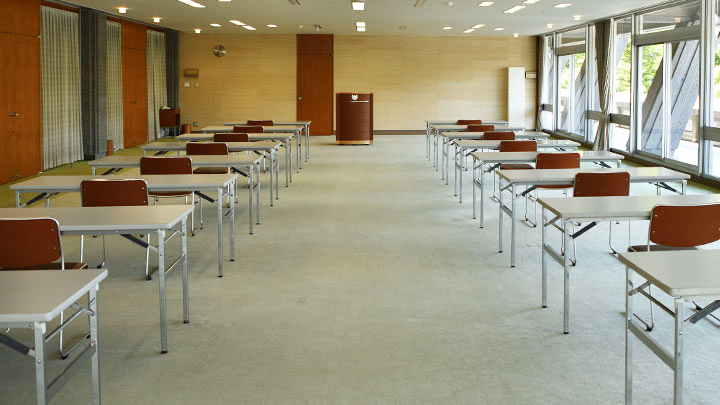 For events that do not include cheering or loud voices,100% of full capacity is permitted. However, for events with cheering or loud voices, capacity is limited to 50% of full capacity, in line with the policies of the national government and Kyoto Prefecture.

Furthermore, we ask all visitors to wear masks and use hand sanitizer upon entering the facilities.


Restaurants and Catering
Catering
Updated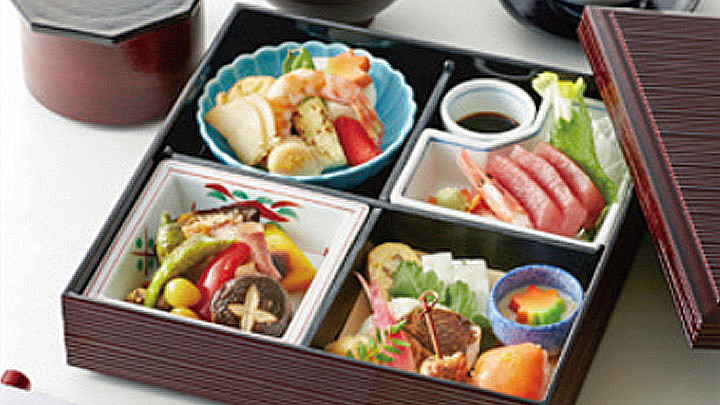 Infection prevention measures
We recommend that masks be worn whenever conversation takes place, even during meals.
Plastic barriers should be used if there is less than 1m between seats from side-to-side and less than 2m between seats face-to-face.
Participants should refrain from pouring drinks for each other.
If requests from the national or local government lead to changes such as time restrictions or restrictions on serving alcohol, ICC Kyoto will comply with and enforce those changes.
Catering
Restaurant The Grill
Updated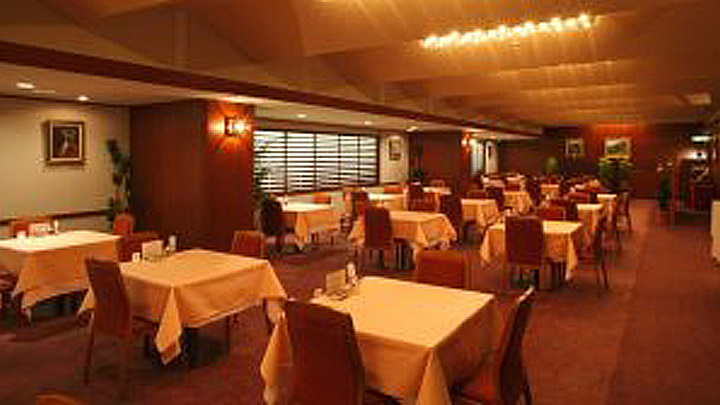 NIWA café
NIWA café implements various measures to ensure the safety of its customers.
Photocatalyst coating for places accessible to customers.
Disinfection of the kitchen and other areas accessible to customers using ethanol-based alcohol.
Installation of plastic barriers to prevent droplet infection.
The Lodge
For the safety and peace of mind of guests staying at our lodging facilities, partitions have been installed to prevent droplet infection and alcohol is used for cleaning.

Guidelines for The LodgeUpdated
For Participants and Organizers
Rules for Using ICC Kyoto
Admission will be denied to the following:
For Participants
Updated
The organizer should notify attendees of the below conditions prior to the event and refuse admission to anyone who is suspected of having COVID-19
Those who have not completed the required recovery period (for those infected) or the required waiting period (for close contacts of those infected) as designated by the government
Those with a fever of 37.5℃ or higher
Those with symptoms such as cough, headache, or difficulty breathing
Those who are experiencing extreme fatigue, loss of taste or smell, or other signs of ill health
Any others who are suspected of having COVID-19
For Organizers
Updated
Organizers must take the following measures.

Establish a COVID-19 Response Manager and hold preliminary meetings.
Notify attendees in advance regarding restrictions to admissions, and make sure all parties are aware that anyone who is suspected of having COVID-19 cannot enter the facilities.
Use the "Checklist for Preventing the Spread of COVID-19" to make sure you are following all guidelines.
Take temperatures at the entrance and check for COVID-19 symptoms.
If anyone is showing COVID-19 symptoms or is suspected of having COVID-19, refuse admission and encourage them to return home.
Do not let staff members work if they are showing symptoms or is suspected of having COVID-19.
Wear a mask at all times inside the building.
Notify ICC Kyoto if anyone is suspected of having COVID-19.
Please refer to the Guidelines for further details, including exceptions to admission restrictions.
Guidelines for Preventing the Spread of COVID-19
Requests to Participants and Organizers
Please cooperate with the following measures aimed at creating a safe environment for everyone.
For Participants
Take your temperature before leaving home
Wear masks and observe coughing etiquette
Thoroughly disinfect and sterilize your hands, wash your hands, and gargle
Refrain from participating if you meet any conditions requiring admission restriction
Refrain from discarding masks in the venue
For Organizers
Wear masks and observe coughing etiquette
Refrain from discarding masks in the venue
Thoroughly inform participants regarding the need for taking temperatures, disinfecting and sterilizing hands, washing hands, and gargling
Provide hand sanitizer at the entrance to meeting rooms, etc.
Prepare a list of participants in case there is a positive case among attendees
Event Support
Multilingual Hotline for COVID-19
Japan National Tourism Organization (JNTO)
Operating hours: 24/7 support
TEL: 050-3816-2787
Support is available in English, Chinese, and Korean
Kyoto Prefecture
Operating hours: 24/7 support
TEL: 075-414-4726
Support is available in English, Chinese, Korean, Portuguese, Spanish, Vietnamese
※Vietnamese support is only available from 8:00 – 22:00
Inquiries
ICC Kyoto, Sales & Marketing Department
E-mail:globalsales(at)icckyoto.or.jp