Our dedicated coordinators arrange any and all services required for your event, from candidacy promotion and planning to management of the conference itself.
1. Audiovisual equipment
Audio system
As an international conference center, we host conferences, ceremonies, seminars, symposiums, and other events focusing on speeches. Our objectives are to transmit diverse languages with the most natural sound quality, and to reproduce sound that is easy to listen to.
VERTEC (VT4889) by JBL
The Main Hall employs a speaker system designed for concerts based on line array theory, achieving unparalleled acoustic performance while being lightweight.
SWISS STUDER社のVista-7ミキシングコンソール Vista-7 Mixing Console by Studer (Switzerland)
A digital audio mixer console for live broadcasts. One of the most stable digital consoles of today, with high reliability for broadcasting and exceptional sound quality.

Media Matrix System by Peavey Electronics
A revolutionary virtual control sound system, allowing a technician a free hand to construct the audio system on a PC screen. This was developed for the United States Senate as a complex distribution system, and is used at the United Nations, as well as governments and conference venues around the world.
System synchronization throughout the conference center
Our audiovisual system achieves device stability by synchronizing with GPS satellite standard time. Audio signal is AES/EBU (48 KHz, 24 bit) uncompressed digital transmission synchronized with video.
Simultaneous interpretation system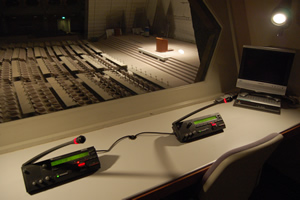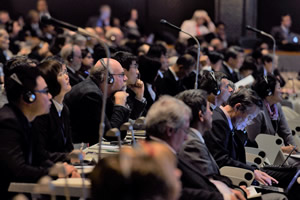 A simultaneous interpretation system (infrared) is permanently installed in each of the major venues (Main Hall, Rooms A, B-1, B-2, C-1, C-2, D, Annex Hall). A temporary simultaneous interpretation system is also available in other locations. Small-scale consecutive interpretation (one-direction) via a guide system may also be used. We can also arrange for simultaneous interpreters separately.
Philips DCN (Digital Congress Network) System
The DCN System is a global standard used at the UN and conference centers around the world, allowing for smooth hire for large-scale global conferences.
The entire conference center is linked via the Voice CobraNet digital interface for simultaneous interpretation in up to 12 languages.
Dramatic lighting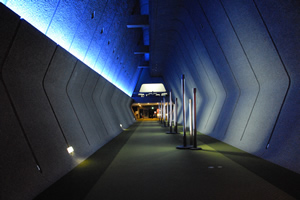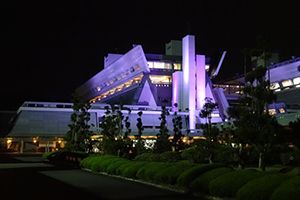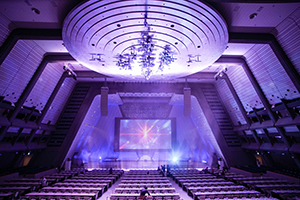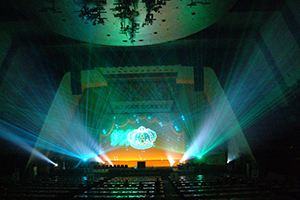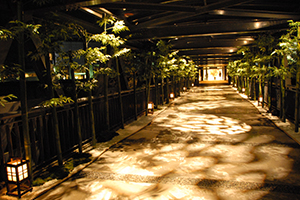 A variety of light performances using LED and moving lights can be provided for your event, ceremony, or party.
Projection mapping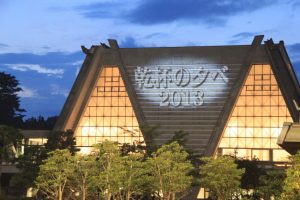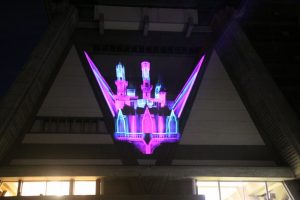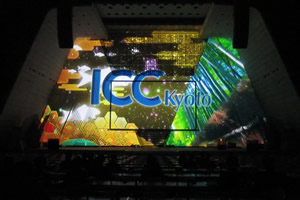 Projection mapping takes advantage of our unique architectural beauty inside the venues or even in the garden.
Presentation system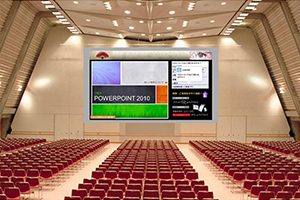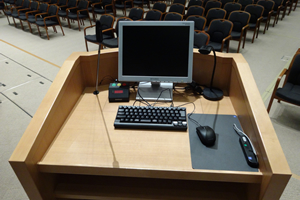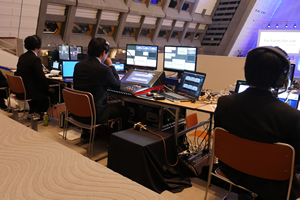 We provide the optimal projector or presentation system for your presentation content or style.
Also available are an academic conference equipment plan*, which provides an audio equipment package specialized for academic conferences, and a presentation data reception system*, which allows for smooth reception of large amounts of presentation data and transmits them to the venues.
Broadcasting and distribution system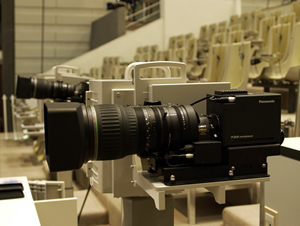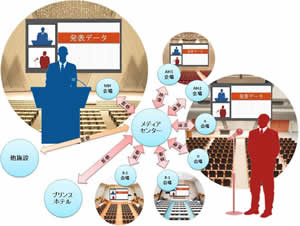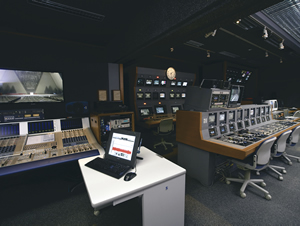 All video signal at the conference center is standardized to a Digital HD System*, allowing you to edit, distribute, and save PC and camera images and video barrier-free. The Main Hall and other major venues have digital HD video cameras permanently installed, and their audio and video data is centrally controlled at the Media Center*, allowing us to respond to diverse requests.
Digital HD System
The conference center uses digital HD video cameras, and signal is transmitted to video projectors via optical fiber as HD-SDI (high-definition serial digital interface), producing image with fine detail and no signal degradation. Video playback and broadcast are converted to HD signal with an upconverter and distributed through a large-scale router in the Media Center, allowing you to view all video in HD when connecting a display to any output throughout the conference center.
Introducing our Media Center (audiovisual equipment central control room)
The Media Center is connected to every meeting space via a single mode fiber-optic network, and the video and audio from the nine cameras in the main venues are centrally controlled here. This allows live broadcast within the conference center or in multiple locations (audio and video broadcasting between multiple domestic or international locations), as well as live internet broadcast.
The system supports sudden changes in live broadcast location or language.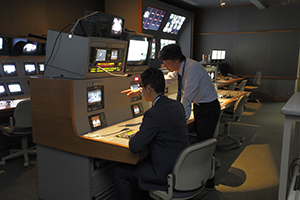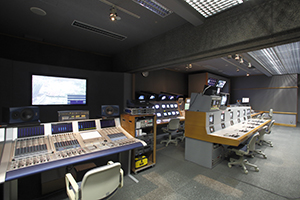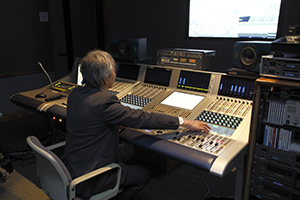 Network system
The conference center has 6 independent LANs (3 information networks, 1 control, 1 audio, 1 video) built on Gigabit Ethernet. The information LANs may be opened to conference participants as a virtual or wireless LAN for a sophisticated conference network. We also provide high-speed, stable transmission of large amounts of data.
All meeting spaces are connected by over 600 single-mode optic fibers and about 100 multi-mode optic fibers, allowing for unrestricted rearrangement of network configuration. The conference center is connected to the Grand Prince Hotel Kyoto via optic fiber for seamless use.
ICC Kyoto Wi-Fi Service
Wi-Fi is available for free in public spaces and some venues in the conference center. We can also add access points or set up a dedicated Wi-Fi network according to your event needs. *An authentication security key will be provided.
How to use ICCK_Public_WiFi
Select the network : ICCK_Public_WiFi
Registration is not necessary for use.
No time restrictions are in place.
Precautions
No specialized security settings are in place.
Wi-Fi may not be usable in some areas due to signal strength or maintenance.
Traffic may slow down due to congestion or network environment.
Access will be suspended or limited immediately if any issues arise from your use of the network.
Office equipment
We can arrange for copier-printers, PCs, telephone lines, PHSs, or other office equipment. We can also provide a temporary power supply (outlet) if required. A permanent Business Center is also available.
Signage and flowers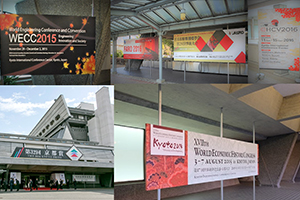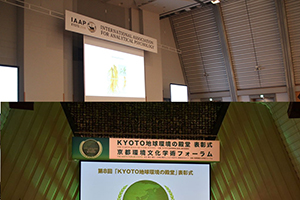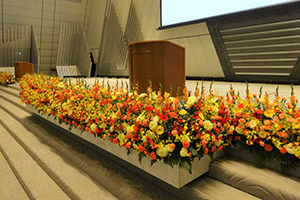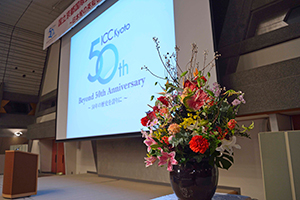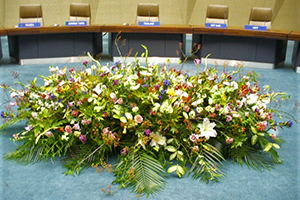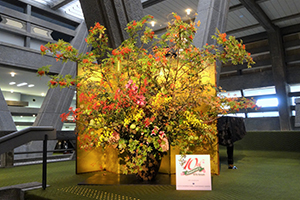 We can arrange for planning, design, and installation of large signboards (venues, front entrance, etc.) or signs (directions, at venues, reception, etc.).
Allow us to propose flowers and decorations for the stage or lobby.
Exhibition and Decoration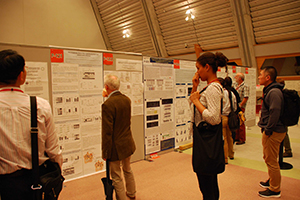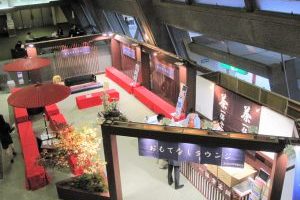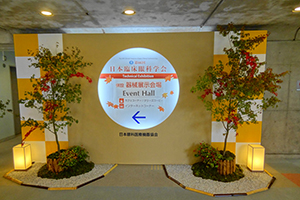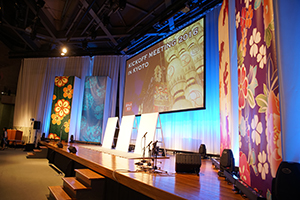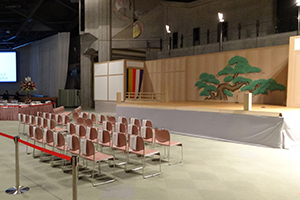 Specialist installation vendors* will support your exhibition, signage, and stage decoration needs, from planning and design to installation and operations.
Security, cleaning, networks, catering, plumbing facilities, electrical construction, or a power supply vehicle may be arranged separately.
*Designated installation vendors
Fujiya Co., Ltd., Kosugi Co.,Ltd., Accost Corporation, Tohgashi Co., Ltd., Zycc Corporation,
Security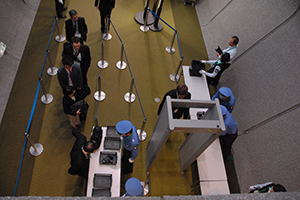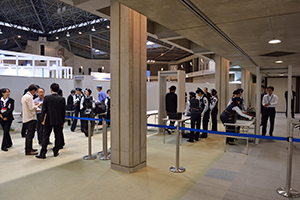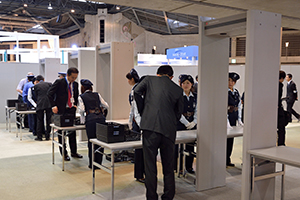 We can arrange for security guards to accompany loading/unloading of exhibition items, or for an enhanced security team.
Garbage disposal and cleaning
We kindly request that you cooperate with our garbage reduction policy to protect the environment. We are able to dispose of unavoidable waste separately (fee charged). Cleaning after takedown at exhibition spaces is handled by the conference center (fee charged). Intermediate cleaning (after installation or during your event) may also be requested.
Photography
Allow us to arrange for documentary or group photos of your event.
Japanese cultural experiences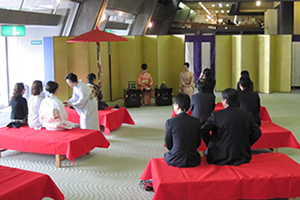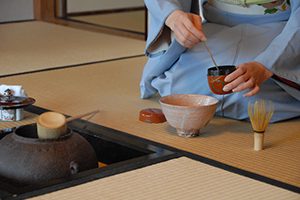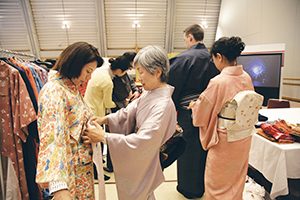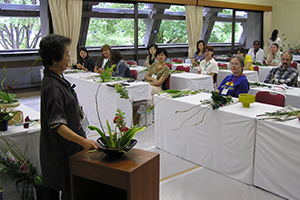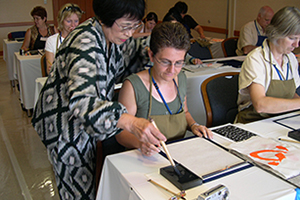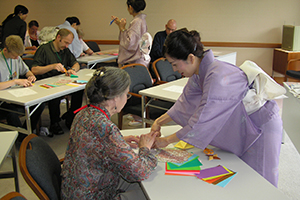 Our programs allow your guests to experience Japanese culture, including tea ceremony, flower arrangement, calligraphy, or kimono. Tea ceremonies may be held in the Teahouse nestled in the Japanese garden, or within a conference center venue or lobby.
Catering services
Conference support services