ICC Kyoto supports the Sustainable Development Goals advocated by the United Nations, and with the goal of continuing to serve as an international conference center that befits discussions about creating a sustainable society, we are working to address four important issues. We aim to work with our clients to contribute to solving societal issues by bidding for and hosting conferences and by adapting our facility management in keeping with the times.
Waste Reduction and Recycling
Reducing Food Loss
In order to make sustainable conferences a reality, we have begun a variety of initiatives together with organizers and related parties, including requesting their cooperation in reducing food loss when ordering catering.
As a result, we anticipate being able to halve the total amount of food waste generated in 2023 as compared to 2019. We are also implementing various initiatives to reduce waste, such as encouraging guests to bring their own reusable bottles.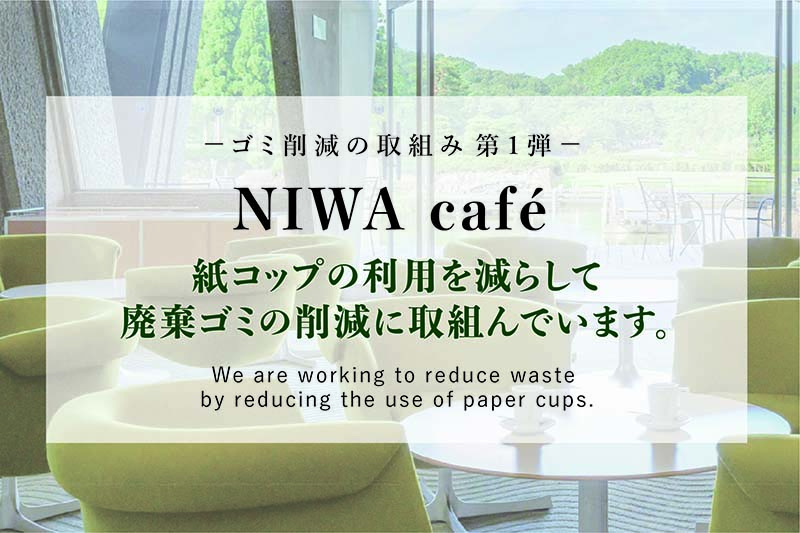 Increased volume for customers who bring their own bottles
Details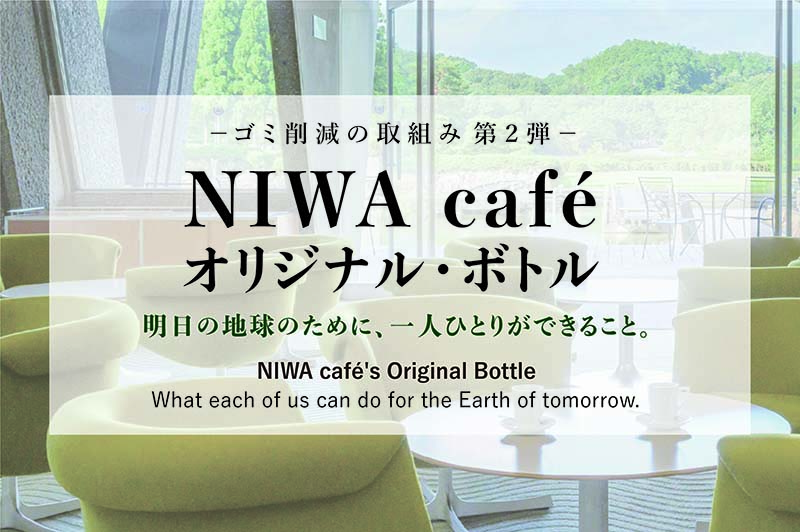 NIWA café's original bottles for sale
Details
Resource Recycling
Since 2023, we have been recycling all food waste generated in the conference center and repurposing it into new resources.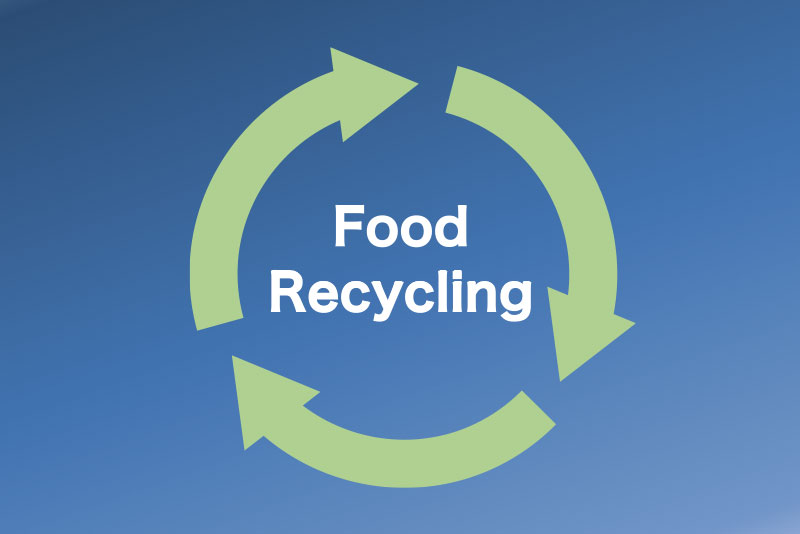 Food waste recycling
Details
Collection and recycling of used oil
Adoption of Eco-materials
Elimination of Plastic Drink Bottles
NIWA café, which opened in October 2020, uses only glass bottles or paper packaging for all takeout drinks. In addition, in January 2021,
all plastic bottles in vending machines in the facility were switched to cans or glass bottles, and as of April 2022, we no longer provide plastic drink bottles in any catering.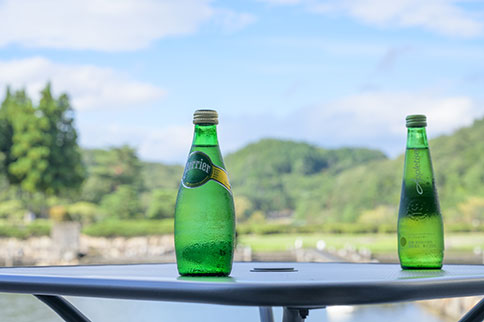 Elimination of plastic bottles from ICC Kyoto vending machines
Elimination of plastic bottles from catering services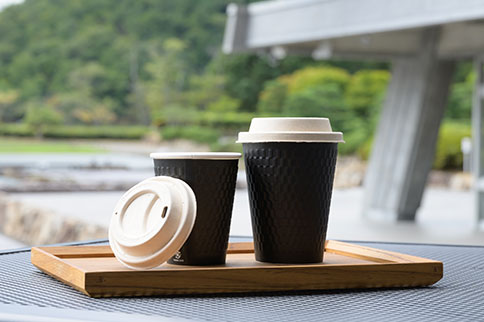 Use of sustainable products to minimize use of plastic bottles or plastic products
(NIWA café)
Beverages provided in cans, bottles,
and paper packaging only
NIWA café
Reduction of Disposable Plastics
In addition to drinks, we use materials with as little environmental impact as possible for catering such as lunch boxes and snacks served at coffee breaks. We have also introduced a system to recycle containers and packaging to reduce plastic waste in situations when the use of plastic materials cannot be avoided.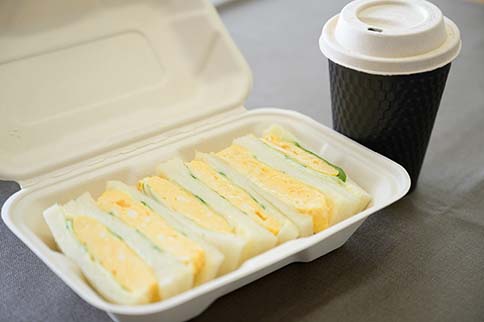 NIWA café's takeout products
use containers and cutlery made of
environmentally-friendly materials.
NIWA café
Reducing Environmental Impact
Solar Panels
We have installed solar panels on the slope of the parking lot to power the digital signage in the subway passageway.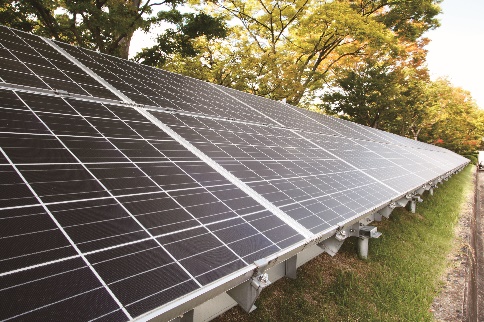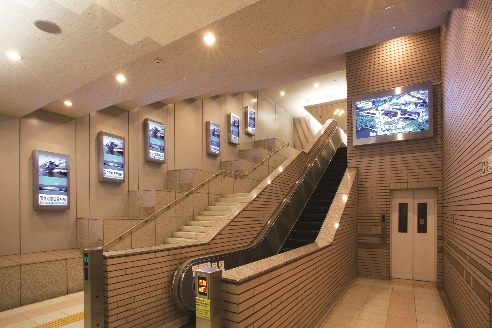 Sustainable Architecture
In order to extend the lifespan of the buildings, we formulate repair and maintenance plans and perform regular maintenance.
The New Hall built in 2018 is an environmentally-friendly building that has adopted environmental technology such as a glass rooftop, with additional initiatives to reduce environmental impact such as actively using wooden materials for the floor of the lounge and the ceiling of the hall entrance.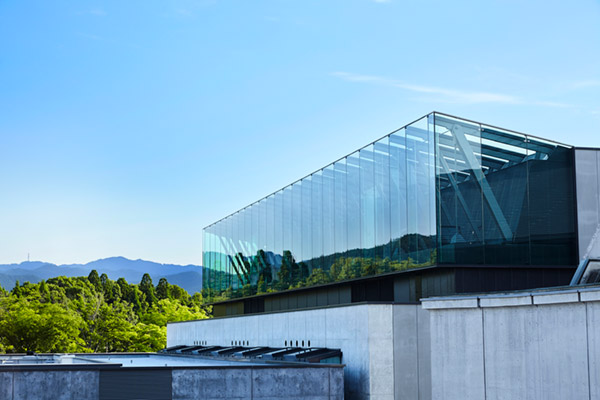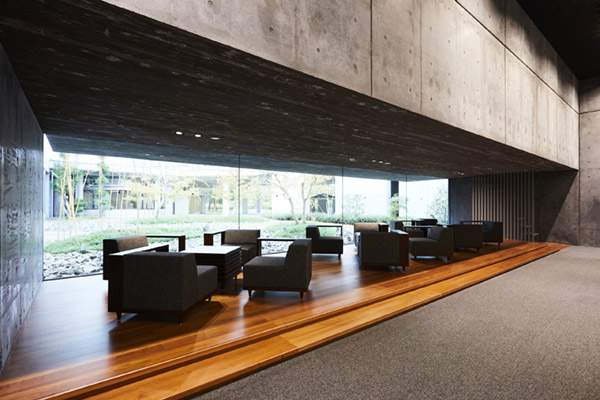 Efficient Use of Energy
For several years, we have been working to significantly reduce energy usage by switching to LED lighting throughout the facility. In addition, in 2023 we introduced a BEMS (Building Energy Management System) in order to use energy more efficiently. We will continue to operate while taking into consideration ICC Kyoto's structure, equipment, and characteristic meeting operations.
Maintenance of the Japanese garden and Surrounding Environment
In order to preserve Kyoto's historical landscape, we not only manage the environment of the Japanese garden within ICC Kyoto, but also cooperatie with the local government to actively promote the improvement of the natural environment around Takaragaike Lake. Protecting and nurturing the garden is one of our initiatives to preserve the natural environment to be passed onto the next generation.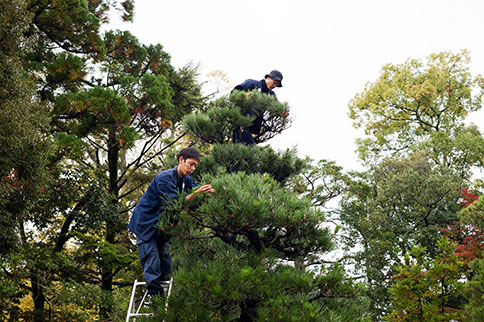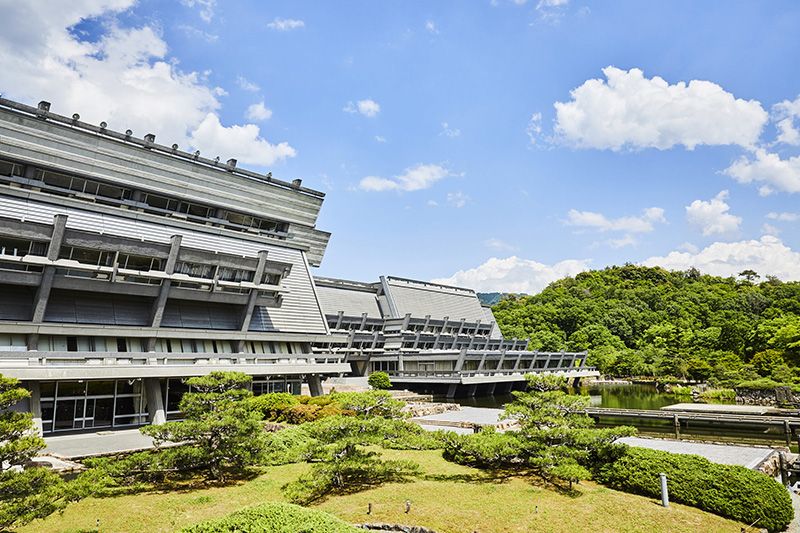 Ethical Choices
Provision of Fair Trade Products
Ethical consumption that considers people, society, and the global environment is said to be an effective concept for simultaneously solving the world's three urgent issues of poverty, human rights and climate change. Choosing fair trade products can help save people in developing countries from poverty and harsh working conditions.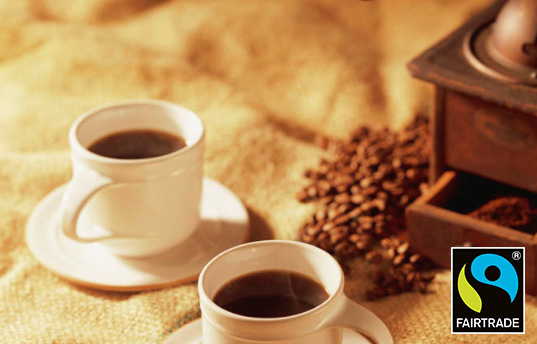 Local Production for Local Consumption
Choosing locally produced products for local consumption is also a form of ethical consumption. Making choices such as preparing menus that use local Kyoto vegetables and serving Kyoto sake for toasts are efforts that contribute to regional revitalization.
We encourage serving locally produced food and toasting with Japanese sake for welcome parties and banquets held at ICC Kyoto.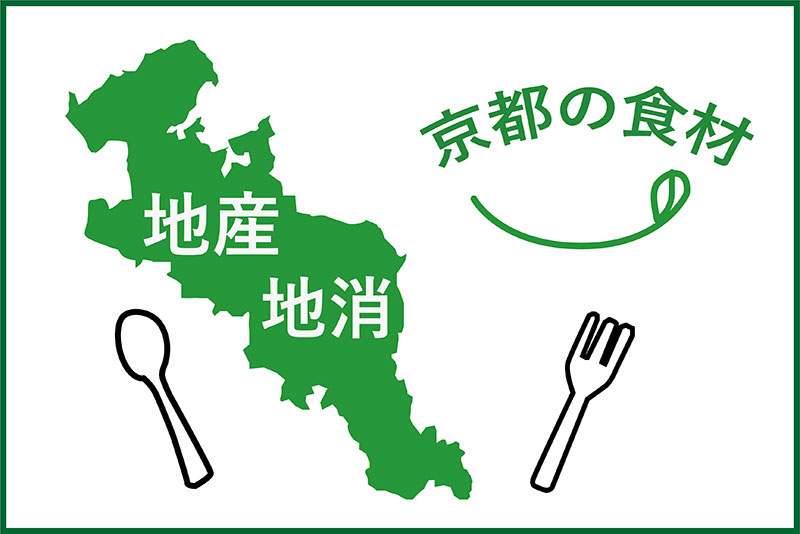 Other Initiatives
KES Environmental Management System
In order to adapt to the era of a sustainable society and zero emissions, at ICC Kyoto we have received certification for Step 1 of the "KES" (Kyoto Environmental Management System Standard), which is the environmental management system standard produced by Kyoto, the birthplace of the Kyoto Protocol.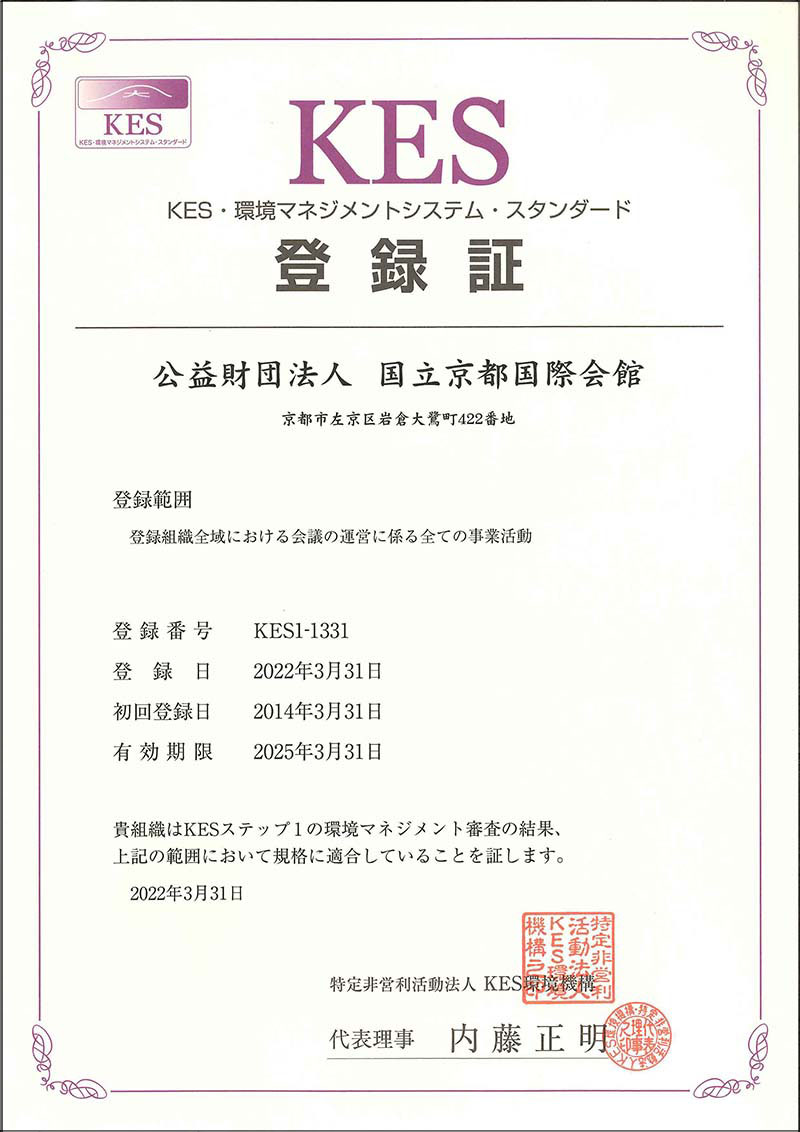 Other Initiatives
Formulating a restoration and maintenance plan to extend the lifespan of our buildings
Converting indoor lighting to LEDs
Restricting electrical current of devices
Installing more recycling boxes
No idling signs
Environmental conservation through electronic ordering and applications (paperless business)
Environmentally-friendly gift items
Selecting environmentally-friendly office supplies and reusing office equipment
Future Initiatives
Fulfilling our societal responsibility with a balance between economic, environmental, and societal factors contributes to sustainability.
We are considering the following initiatives as future steps.
Formulating a formal sustainability policy
Appointing dedicated sustainability staff
Formulating sustainability guidelines for organizers, users, and suppliers (partner companies)
Formulating a waste reduction plan
Increasing digital signage (abolishing paper signage)
Using organic foods that contribute to environmental conservation
Proposing recyclable materials for decorations and energy-saving devices
Creating eco-friendly plans for customers to choose from
Donating leftover stationery and materials from events