ICC Kyoto is actively engaged in addressing three important issues: sustainability, improving customer satisfaction, and maintaining safe and secure facilities.
Sustainability
Initiatives by Kyoto
In December 1997, the Kyoto Protocol was adopted at the Conference of Parties to the UNFCCC (COP3) here at ICC Kyoto. Ever since, "Kyoto" has been a keyword for initiatives to protect the environment, and Kyoto City has introduced the "DO YOU KYOTO? (Are you doing something good for the environment" project. With 2022 marking the 25th anniversary of the Kyoto Protocol, the circle of environmental actions continues to expand.
Kyoto has also created the Earth Hall of Fame Kyoto, an award given in the name of the birthplace of the Kyoto Protocol to honor in perpetuity the achievements of those who have contributed to conservation of the global environment.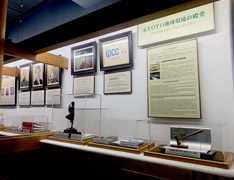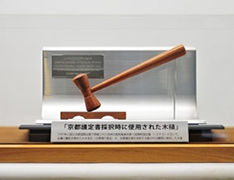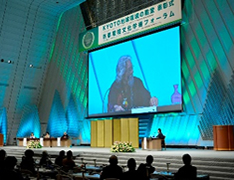 Event sustainability has become an increasingly important theme in the MICE industry in recent years. In June 2016, Kyoto became the first city in Asia to join the Global Destination Sustainability Index.
Initiatives by ICC Kyoto
As the venue for many meetings with environmental conservation as the theme, ICC Kyoto promotes initiatives to help create a sustainable environment for the future.
Food & beverage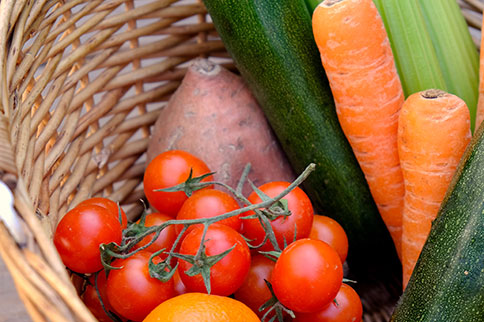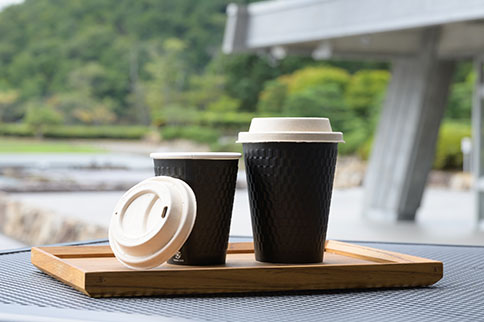 Use of sustainable products to minimize use of plastic bottles or plastic products (NIWA café)
NIWA café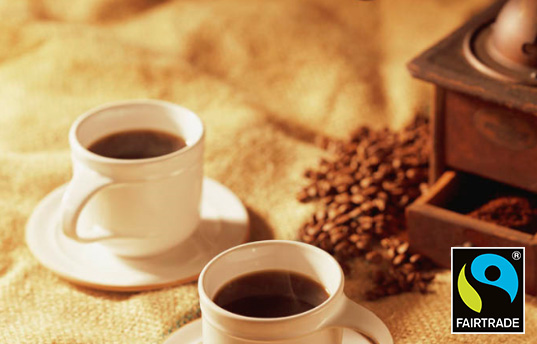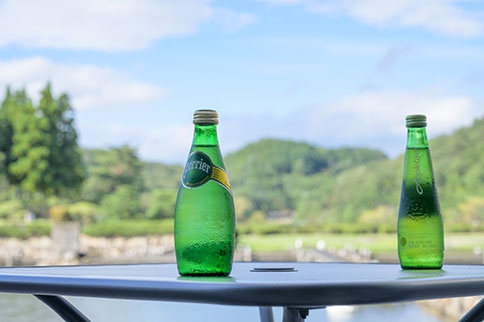 Elimination of plastic bottles from ICC Kyoto vending machines
Elimination of plastic bottles from catering services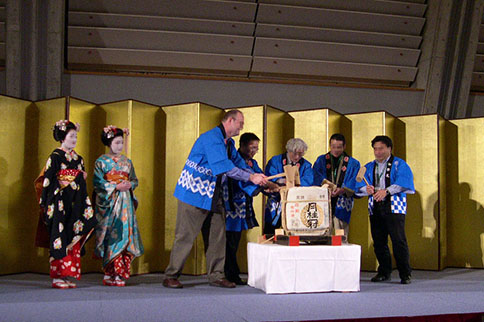 Toasts with Japanese Sake in Kyoto


Kyoto was the first city in Japan to establish an  ordinance to promote making toasts with sake, as a way to deepen understanding of Japanese culture. At ICC Kyoto, we also encourage using Japanese sake for the toast at welcome parties and banquets.
Solar panels
We have installed solar panels on the slope of Parking Lot 1 to power the digital signage in the subway passageway.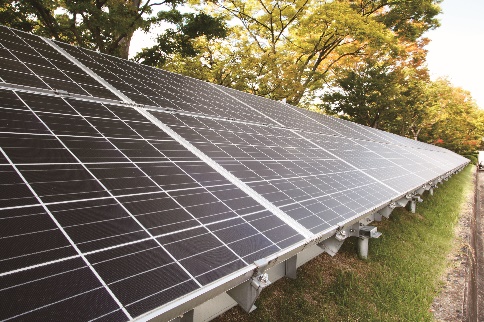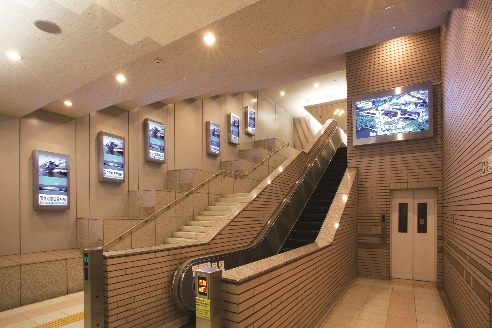 Sustainably-built New Hall
Built in 2018, the New Hall was designed to reduce its environmental impact and contribute to environmental conservation,
with environmentally-friendly techniques that make use of the glass roof, the use of wooden elements in the lounge floor and
exits/entrances, and more.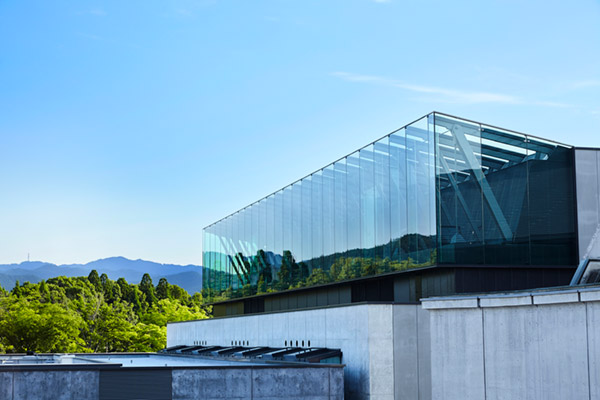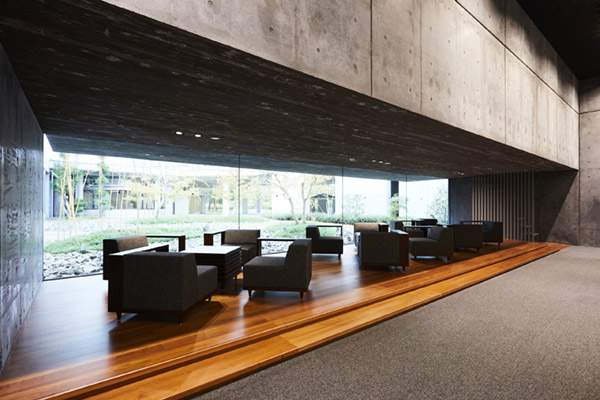 KES environmental management system
ICC Kyoto is certified for STEP 1 of the KES (Kyoto Environmental Management System Standard), an environmental management system standard promoted by Kyoto, the home of the Kyoto Protocol, in order to serve a sustainable society in the zero emissions era.
Maintenance of the Japanese garden and surrounding environment
In addition to maintaining the Japanese garden, ICC Kyoto has partnered with the local government to promote preservation of the natural environment around Lake Takaragaike and protect Kyoto's historical scenery. The conference center blends seamlessly into the surrounding environment, a designated scenic area, to create a peaceful zone dedicated to conferences.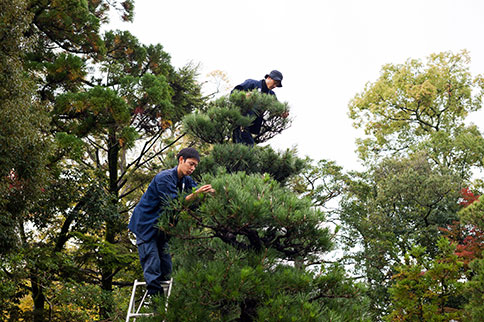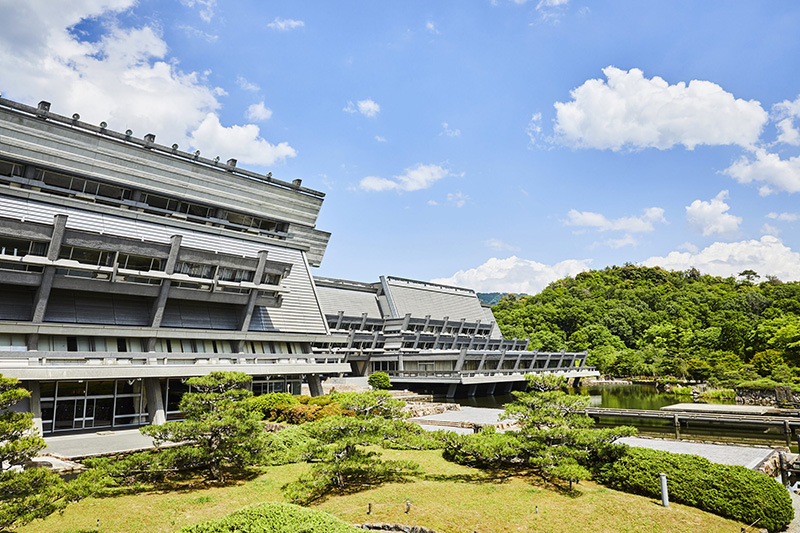 Other initiatives
Formulating a restoration and maintenance plan to extend the lifespan of our buildings
Converting indoor lighting to LEDs
Restricting electrical current of devices
Installing more recycling boxes
No idling signs
Environmental conservation through electronic ordering and applications (paperless business)
Environmentally-friendly gift items
Selecting environmentally-friendly office supplies and reusing office equipment
Fulfilling our societal responsibility with a balance between economic, environmental, and societal factors contributes to sustainability.
We are considering the following initiatives as future steps.
Formulating a formal sustainability policy
Appointing dedicated sustainability staff
Formulating sustainability guidelines for organizers, users, and suppliers (partner companies)
Formulating a waste reduction plan
Increasing digital signage (abolishing paper signage)
Using organic foods that contribute to environmental conservation
Proposing recyclable materials for decorations and energy-saving devices
Creating eco-friendly plans for customers to choose from
Donating leftover stationery and materials from events
Improving Customer Satisfaction
ICC Kyoto strives to be an international conference center facilities, functions, and service are fully integrated, and we are constantly working to improve our services based on customer feedback.
Customer surveys
We conduct post-event surveys to ask for feedback from our clients on everything from facilities to services, and reflect the results in our operating policy and services. As the only Japanese member of AIPC (International Association of Convention Centers), we have also entered the running for the AIPC APEX Award for highest client rating received by a convention center, in order to ensure that we meet global standards and to identify possible areas of improvement.
Participation at MICE trade shows
In addition to organizer input, we also exhibit at domestic and international MICE trade shows to receive first-hand opinions from buyers, including PCOs (Professional Congress Organizers), DMOs (Destination Marketing Organizations), DMCs (Destination Management Companies), and travel agents, to clarify what people want from Kyoto and ICC Kyoto.
AIME 2017 – Participated for the first time in Melbourne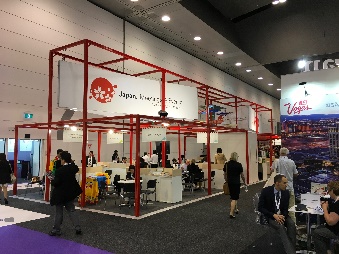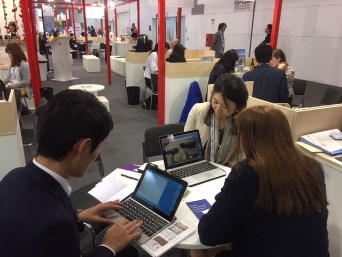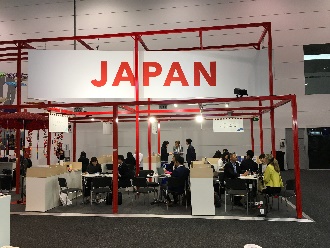 IBTM World 2022 – Participated for the first time in 3 years after the COVID-19 pandemic in Barcelona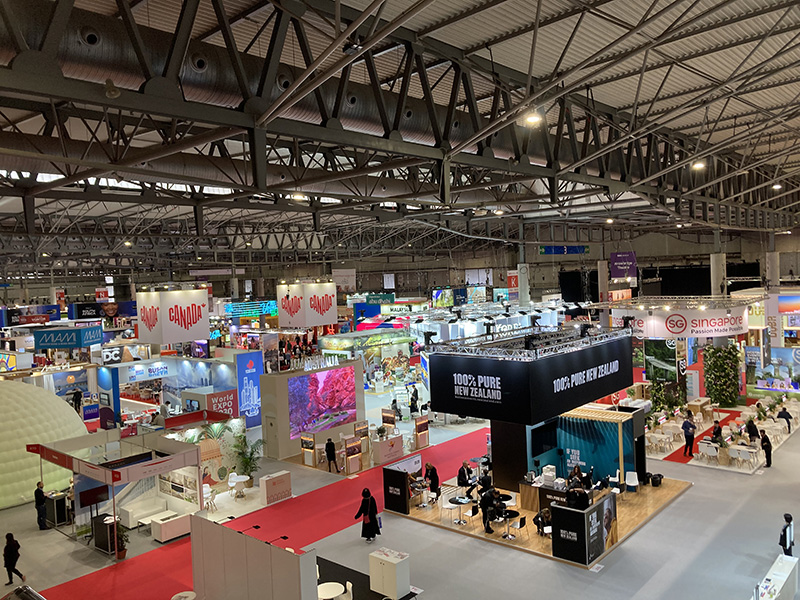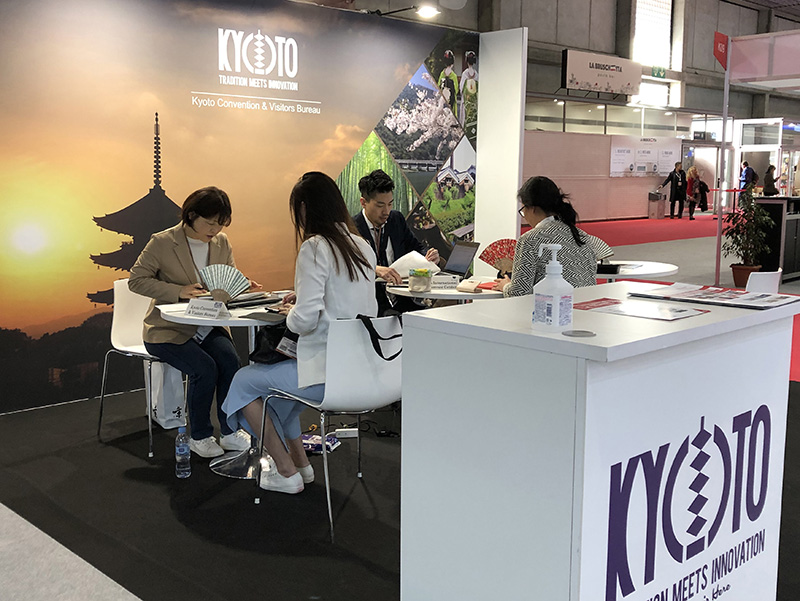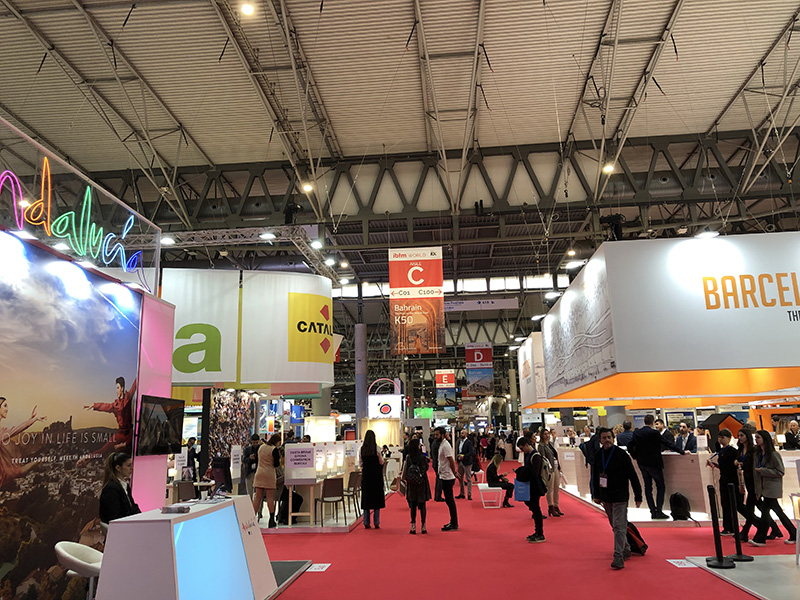 International conference center research
We take tours of major domestic and overseas international conference centers and other MICE facilities to explore our ideal business model, services, and facility management.
Human resource development
Aiming to be MICE professionals, ICC Kyoto staff attend meetings, workshops, and seminars both in Japan and overseas to deepen their knowledge of crisis management, facility management, planning and presentation, and customer service, as well as to network and stay
up-to-date on the latest information in the MICE industry. We have a particular focus on cultivating human resources who can collaborate directly with international organizations and overseas organizers, secretariats, and core PCOs.
Cultural experiences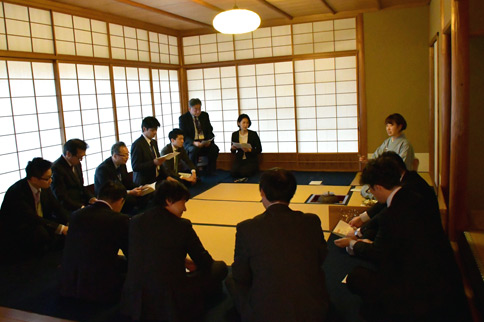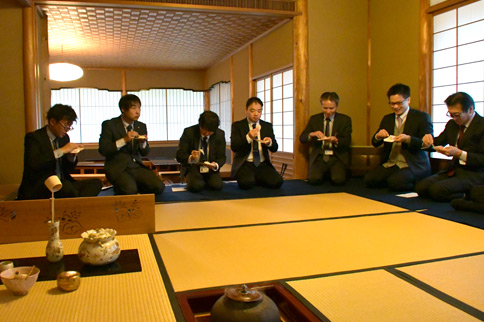 Events such as the first tea ceremony of the New Year in the ICC Kyoto tea ceremony house, Hoshoan, help ICC Kyoto staff become more knowledgeable about traditional Japanese culture.
Sustainability training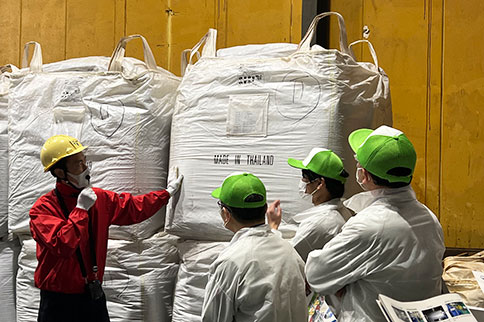 ICC Kyoto seeks to further staff knowledge of sustainability through activities such as taking a tour of the food recycling facility used by the conference center.
Exchange events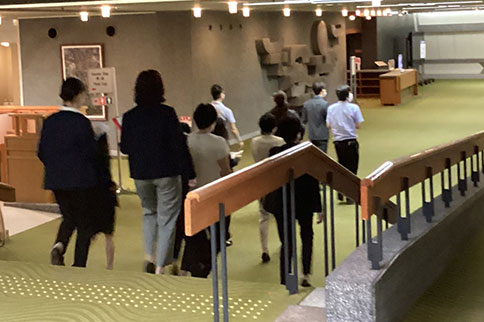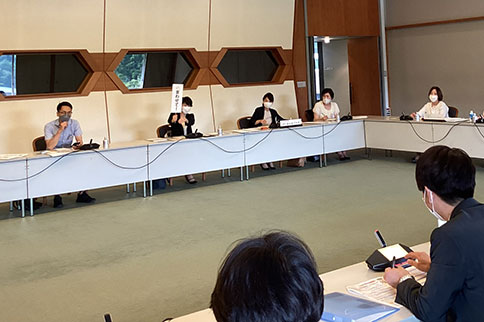 In June 2022, ICC Kyoto invited young staff members from MICE facilities in Kansai (26 people from 7 organizations, including ICC Kyoto) for an opinion exchange and tour of the facilities.
Safe and secure facilities
Earthquake retrofitting
In March 2014, ICC Kyoto completed large-scale retrofitting renovations on all buildings to ensure a seismic capacity of 1.25 times according to the new seismic standard in the Building Standards Act (ICC Kyoto is a Class 2 Seismic Safety Government Facility), making the facility a safer and quakeproof structure that fulfills the latest government standards.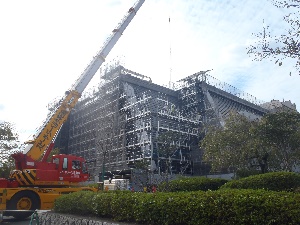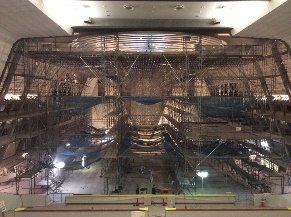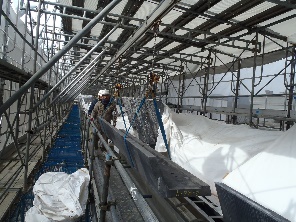 Power supply system
ICC Kyoto is connected to two power supply systems with power generated in different locations, so that even if our continuous power supply should fail, the sub-power supply system acts as a backup. We also have an in-house power generator that is automatically switched to if both power supply systems fail. Our audio equipment is powered by UPS (Uninterruptable Power Supply) equipment.
Security
ICC Kyoto was designed principally for international conferences. All of our facilities have functionality tailored to real conference situations, and we have achieved high reliability in both security and crisis management. We also propose specialized security arrangements by customer request.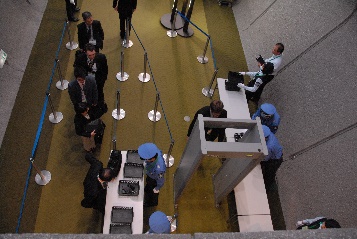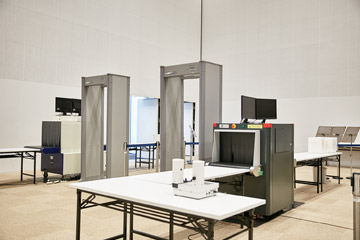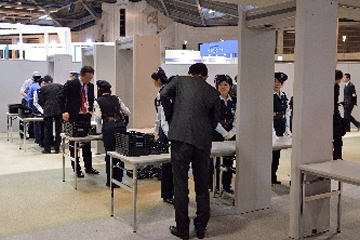 Event Hall 2