Cloak Room
We have two cloak facilities, the permanent cloak room next to the 1st floor central elevator, and temporary one near the Main entrance. We open the permanent cloak room when events are held.
The temporary cloak room is available to lend out, but we can also arrange for cloak staff separately if requested.
Currency Exchanging Money
Our currency exchange service changes foreign currency to Japanese yen for conference participants.
Hours
9:00 – 17:00
Location
Main Building, 1st Floor, Conference Center Office (Administration Department)
Notes
Only bills are accepted, no coins.
We cannot change Japanese yen to foreign currency.
We cannot change traveler's checks.
Currencies
USD United States dollars
GBP Pounds sterling (Scottish pounds not accepted)
CAD Canadian dollars
CHF Swiss francs
SEK Swedish krona
DKK Danish krone
NOK Norwegian krone
AUD Australian dollar
HKD Hong Kong dollar
NZD New Zealand dollar
SGD Singapore dollar
EUR Euro
As of December 2014
Gift Shop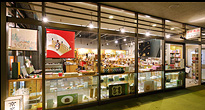 A variety of traditional Kyoto products are available. We can also arrange for commemorative gifts for your event.
Kyoto's appeal is in its meticulous quality and traditional beauty passed down through the generations. We invite you to use our uniquely Kyoto fine goods for presents, souvenirs, and in your daily life.
*Office equipment is not available.
Masterpieces from Kyoto firms
Traditional Crafts
Foods