Basic Furniture Rental Fees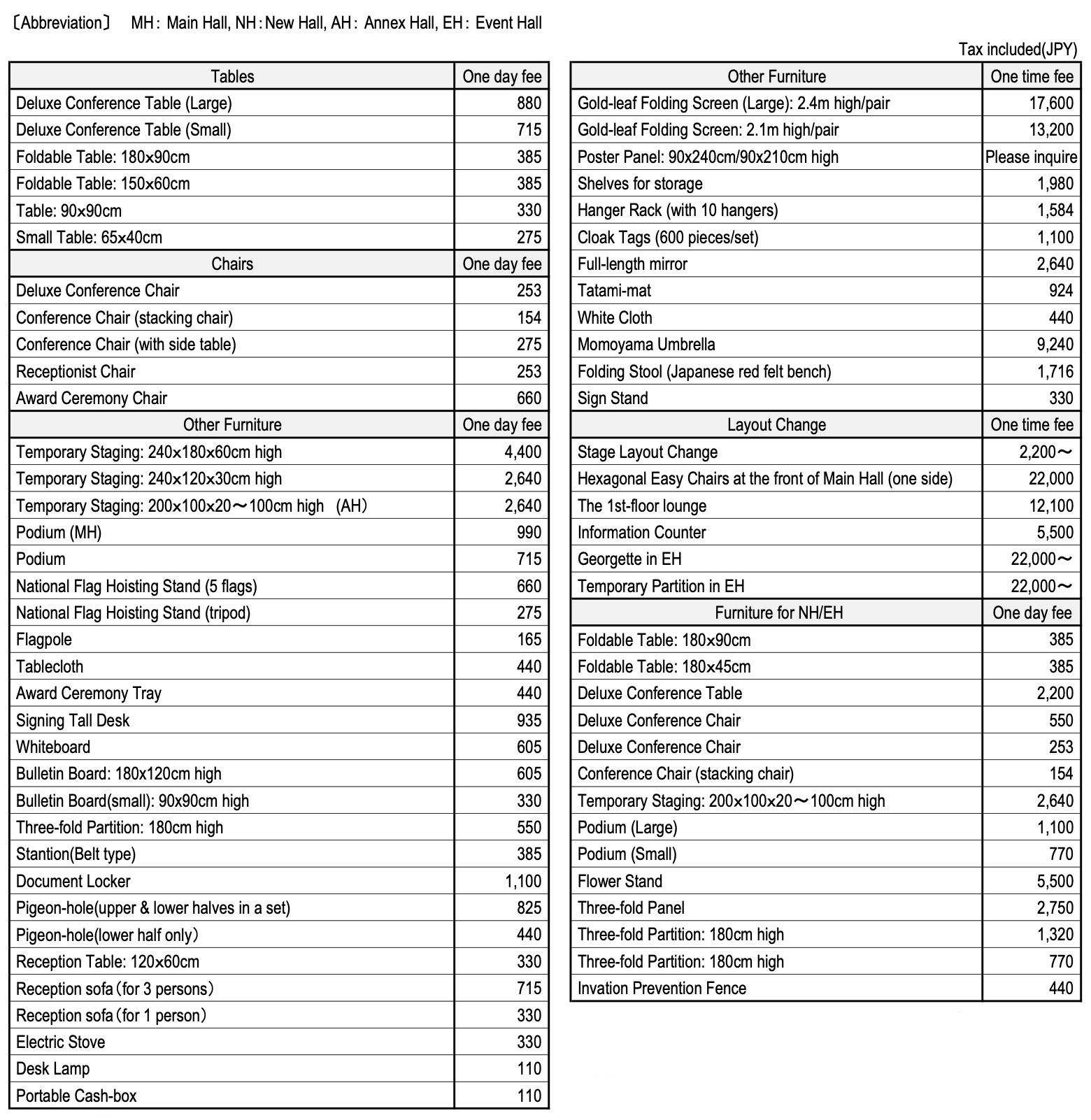 *Stock Quantity
【Main Building】
Foldable Table: 180x90cm:150 (white cloth is charged extra) Foldable Table: 150x60cm:470
Foldable Table: 150x60cm with front panel:150
【AH】
Foldable Table: 150x60cm:330
Foldable Table: 150x60cm with front panel:45
【EH/NH】
Foldable Table: 180x90cm:300 (white cloth is charged extra) Foldable Table: 180x45cm:301
Foldable Table: 180x45cm with front panel:69
Please be noted that your request may not be met due to the limited number of furniture available for use.
Our setup staffs attending of rehearsal and late night & early morning standing by will be charged an extra.
The room rental fees listed in the Table above (except those for Event Hall and New Hall) include the initial hall/room setup and basic furniture. However, any layout change during the day and/or the use of any furniture other than the basic furniture is subject to additional charges.
You are requested to determine the layout of hall/room fourteen days before usage start date.
Any change to the layout after it is determined is subject to additional charge from three days before you use the hall/room.
【Information on Usage of Equipment , Furniture and Provision of Display Material】
Please confirm before applying to use equipment and furniture or have display material provided.
1. Discuss usage plan
Please have an in-depth meeting with your coordinator regarding your event at least 1 month before usage start date. Please bring program, venue layout, list of items to be provided, loading/unloading plan, and notification and application forms to this meeting.*Please read and confirm the "Emergency Preparedness Plan" for response in case of an emergency.
2. Ordering
Please determine your required arrangements at least 2 weeks before usage start date. The details and amounts listed in the "final estimate" created based on this will serve as final confirmation of your order.
*Please be aware that we may not be able to arrange some items for you after this deadline.
3. Changes and cancellations
You will be charged a cancellation fee for cancellations and changes in the details of your arrangements.
– Operators and other personnel costs: 100% of charges starting 2 weeks before work start date.
– Equipment, furniture, display material, etc.: 100% of charges starting 1 week before usage start date.
*An earlier cancellation fee (100% of charges) may occur for specialized arrangements.
4. Fee revisions
If we cannot provide an item listed on rental fee chart or estimate due to a revision in lineup or service features, we will explain the circumstances in advance and provide an equivalent or superior item to what was initially planned. Fees will be charged based on themost recent renal fee chart.
5. Moving items to another venue
Please do not move provided equipment, furniture, or display material outside the hall or meeting room they are set up in.
6. Returning to original condition
When your rental period is concluded, please return the items promptly in the same condition as at time of rental.
If you damage, deface, or lose equipment or furniture, you will be liable for damages according to Article 17 of the Guideline andRegulations for the use of ICC Kyoto.
7. Bringing your own equipment
Equipment, furniture, and display material may not be brought in from outside. Due to concerns about facility maintenance and safety management,we will provide these items via designated suppliers who have received instructions from us. However, this may be permitted in special cases when strong need is recognized.
Furthermore, due to concerns about facility maintenance and safety management, this must be performed in the presence of our staff and anattendance fee will be incurred. We will also charge a service fee based on details and scale when handling these special arrangements.